/ Featured Article
5 things we love about the Ducati Streetfighter V2
Ducati's potent middleweight naked bike raises the bar in naked bike performance.

on Aug 29, 2022
---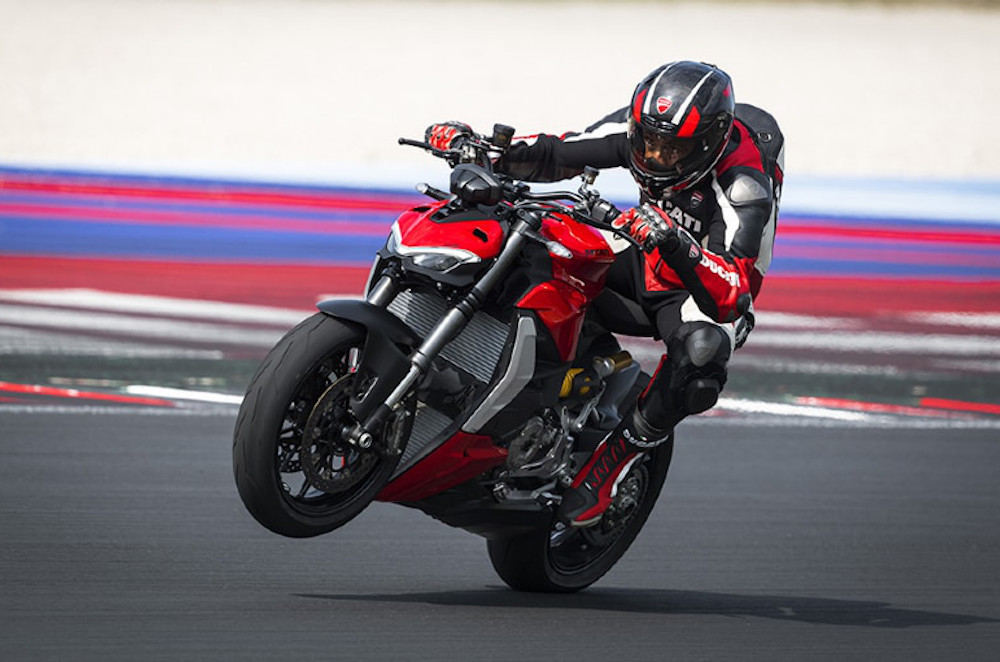 Ducati has recently reimagined itself with innovative bikes that are suitable for a range of riders. When the Scrambler model line was introduced in 2014, it allowed retro fans and novice riders to experience Ducati. Since then, this model line has grown to become the most popular bike in the House of Borgo Panigale's whole model roster. Even while the Scrambler welcomed new riders, Ducati didn't forget about its higher-end, performance-focused models. In fact, it started working on bringing out even better bikes.
The Panigale line of bikes was introduced by Ducati a few years ago. These supersport vehicles came in a range of sizes, forms, and engine setups. Ducati unveiled a street-legal upright, well tuned naked bike based on the powerful Panigale V4. However, the Streetfighter V4 was much more than simply a Panigale stripped down because it has specially adjusted electronics and suspension to make it a good street vehicle. Ducati has now unveiled the Streetfighter V2, a smaller, more manageable version of the V4's fire-breathing sibling, to expand the Streetfighter model line even more. Let's examine what this middleweight naked bike has to offer in more detail.
Engine
The Streetfighter V2 is a more manageable companion while being simpler to grow into than the Streetfighter V4, which can be challenging even for intermediate riders. Although it doesn't have more than 200 horsepower available, it still has a lot of power. It is powered by a 955cc SuperQuadro engine with the renowned L-twin design from Ducati. The Streetfighter V2 generates a thrilling 153 horsepower at 10,750 RPM thanks to Desmodromic valve actuation, electronic fuel injection, and a clever liquid cooling system.
Versatility
While the Streetfighter V2 has been built off the Panigale V2, it doesn't put the rider in such an aggressive seating position. Unlike the supersport, the Streetfighter is equipped with upright handlebars, and less-aggressive rearsets. This puts the rider in a more upright, albeit slightly aggressive riding position. It's comfortable enough to ride it on a daily basis, while providing enough leverage to offer impressive performance on the track or on fast, twisty roads. Plus, the fact that it has a more tractable engine makes it a lot easier to ride in city centers and tight, traffic-laden urban roads.
Styling
The Streetfighter V2 is really stunning, as are all of Ducati's contemporary bikes. It uses a design that is obviously well thought out. With this new middleweight machine, it is obvious that Ducati has achieved the ideal balance between form and function. The V2 shares many luxury characteristics with its larger sibling, including complete LED lighting, exquisitely sculpted bodywork, including the muscular fuel tank, chiseled front body panels, and a slim and athletic tail section. It may be difficult to tell this bike apart from the Streetfighter V4 at first appearance, but this just adds to its appeal and tightly integrates it with the Streetfighter model line.
Trackday ready, daily ready
Given how many different things the Streetfighter V2 can do, it could possibly be the perfect motorcycle for sporty riders. The Streetfighter V2 has a similar allure to other, simpler bikes like the Yamaha MT-09 or even the KTM 890 Duke R, but it is equally at home on the road and the racetrack. Regarding overall performance, it falls into what might be described as the "goldilocks zone"—not too fast, but also not a slowpoke. 153 horsepower is still more power than you'd often find in a mid-size family hatchback, so keep that in mind as you read this, as the Ducati Streetfighter V2 is still a beast of a machine.
Technology
In its purest form, the Ducati Streetfighter model line is a race bike converted for urban use. As a result, the Streetfighter V2 makes no concessions when it comes to race-ready hardware. It has ultra-premium Brembo M4-32 monobloc radial calipers up front, which are connected to a Brembo radial master cylinder, as a start. Showa BPF front forks measuring 43mm in diameter and a Sachs rear shock absorber are responsible for the suspension.
This hyper-naked bike's suspension configuration has been specifically calibrated to be comfortable on the road as well as compliant and engaging on the racetrack. Last but not least, the Streetfighter V2 comes equipped with the whole set of advanced electronics from Ducati. This adds features including traction control, cornering ABS, and three riding modes: Wet, Road, and Sport.
---
---
Related Articles
Want to ride a big bike but don't want to break the bank? These 5 affordable models may be worth considering.

Floating discs or solid discs—which one is better and is it worth upgrading to aftermarket rotors?

Here are 5 Chinese-made motorcycles we're looking forward to seeing in the local market in 2023.

Here's our list of the top 10 lightweight big bikes worth considering in 2023.

With the start of the new year, spirits are high that we can be better than ever before. Here's what we have set as our New Year's Resolutions for the year ahead.
---
Latest Features
KTM has teamed up with RIDE ACADEMi to offer advanced street-riding skills to everyday riders.

Want to ride a big bike but don't want to break the bank? These 5 affordable models may be worth considering.

Floating discs or solid discs—which one is better and is it worth upgrading to aftermarket rotors?