/ Featured Article
5 styling cues that make the new Yamaha Mio Fazzio stand out from the crowd
From looks alone, there's a lot to love about the new Yamaha Mio Fazzio.

on Jun 12, 2022
---
Yamaha has recently introduced the newest member of the Mio scooter range in the form of the Fazzio for just P88,900. The new Fazzio sets itself apart from the rest of the entry-level scooter range thanks to its styling, premium features, and impressive technology. Designed to bring out the uniqueness in each individual, Yamaha's newest Fazzio is designed to cater to the ever-changing mobility needs of today's on-the-go generation.
Needless to say, in the looks department, there's a lot to like about the new Fazzio. It's got a bubbly personality that's chic, stylish, and fashionable, and will surely go on to be loved by younger riders—both commuters and enthusiasts alike. That said, here are 5 styling cues that make the Fazzio stand out from the crowd.
Throwback styling
In terms of design, Yamaha has done away with its sporty, angular bodywork, in favor of a more bubbly and streamlined approach. While the Mio Fazzio's styling isn't exactly retro, it is reminiscent of scooters from the past thanks to its oval headlight, two tone paint schemes, and overall shape. The Mio Fazzio's overall look is a lot friendlier and approachable, too.
Vibrant colors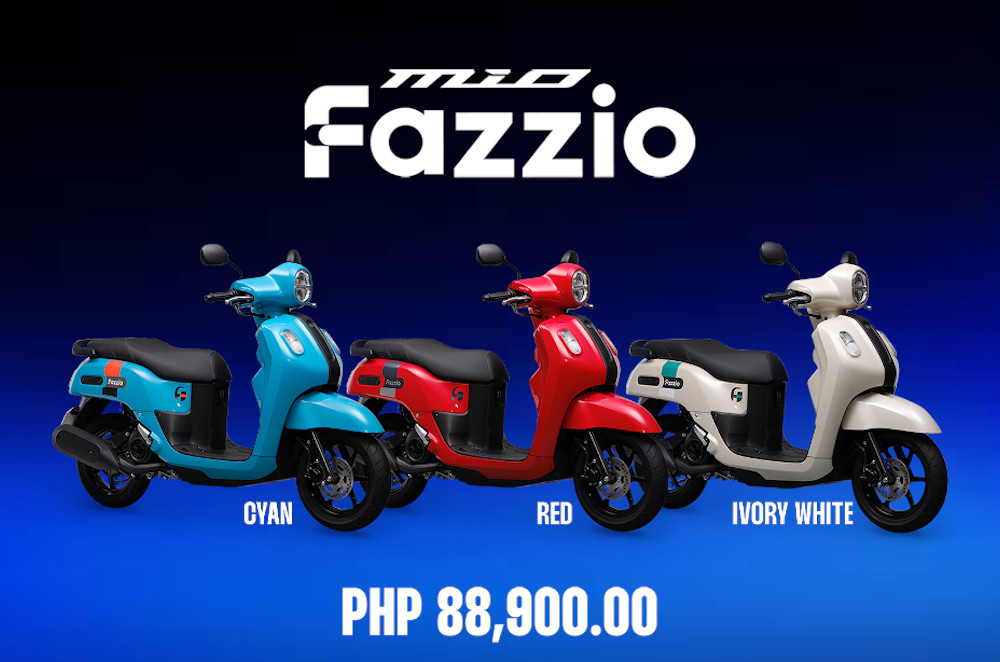 Complementing the Mio Fazzio's lively character is a slew of vibrant colorways. Yamaha offers the stylish commuter scooter in three youthful hues consisting of Cyan, Red, and Ivory White—colors which truly standout even further, thanks to the scooter's uniquely styled bodywork.
Diminutive proportions
Of course, given the fact that the Mio Fazzio has been designed as a city slicker, its diminutive proportions lend themselves to ease of use and a lot of practicality. The fact that the Fazzio is so small further adds to its charm and character, too. This all makes for the perfect recipe for a stylish and practical way to get around town.
LED lighting
The Yamaha Mio Fazzio is equipped with premium LED lights. This not only increases visibility at night, but also gives the little scooter a more premium aesthetic—contrary to what its P88,900 price tag would suggest. That said, LED lights feature all around, and keep things looking sleek and premium.
Simple yet effective digital display
Last but not least, the Yamaha Mio Fazzio gets a fully digital instrument panel. While it isn't a fancy TFT screen like that of more premium machines, Yamaha has styled it in such a way that gives it a classy appearance. It's housed in a rectangular pod, and features a black with white font theme. It displays just the right amount of info, keeping you safe and informed while on the road.
---
---
Related Articles
Scooters are growing tremendously in popularity. Here are a few reasons why you should get one.

Aprilia's SR GT 200 scooter is quite probably one of the best urban scooters in the market. Here are a few reasons why we think this is the case.

Here are a few reasons why hitting the road on a Vespa is an excellent idea.

Here are a few mods and upgrades worth considering when it comes to improving the performance of your scooter.

Honda has just released the CL500, and right away, it's clear to see why it's an ideal big bike for first-time riders.
---
Latest Features
Want a bike that's super fast and looks really dapper doing so? Look no further than the Speed Triple RR from Triumph.

Follow these tips and tricks when getting ready for a long-distance ride on your motorcycle.

Struggling to think of gift ideas for your motorcyclist friends and family? Read on to get some inspiration this gift-giving season.