/ Featured Article
5 reasons why the Royal Enfield Continental GT 650 is a great value
With the Twins, Royal Enfield has come a long way from the Bullet.
---
Royal Enfield motorcycles have come a long way since their humble beginnings in Redditch England as their factories were repurposed from building guns into building motorcycles. Hence, their famous motto "Made like a gun, goes like a bullet". However, not a lot of people were always fond of their motorcycles, especially with the stigma it now gets as a product that's no longer made in Brittain, since it is now more of an Indian motorcycle. Its build quality would be questioned and cause reservations over the brand. However, with its new offerings, more particularly with its twins, it seems that the company is heading towards more potential. If you're not a fan of Royal Enfield's new twins especially of its cafe racer offering, let us convince you otherwise. Here are five reasons why we believe the Royal Enfield Continental GT 650 is an excellent choice for a motorcycle.
Cafe Racer Comfort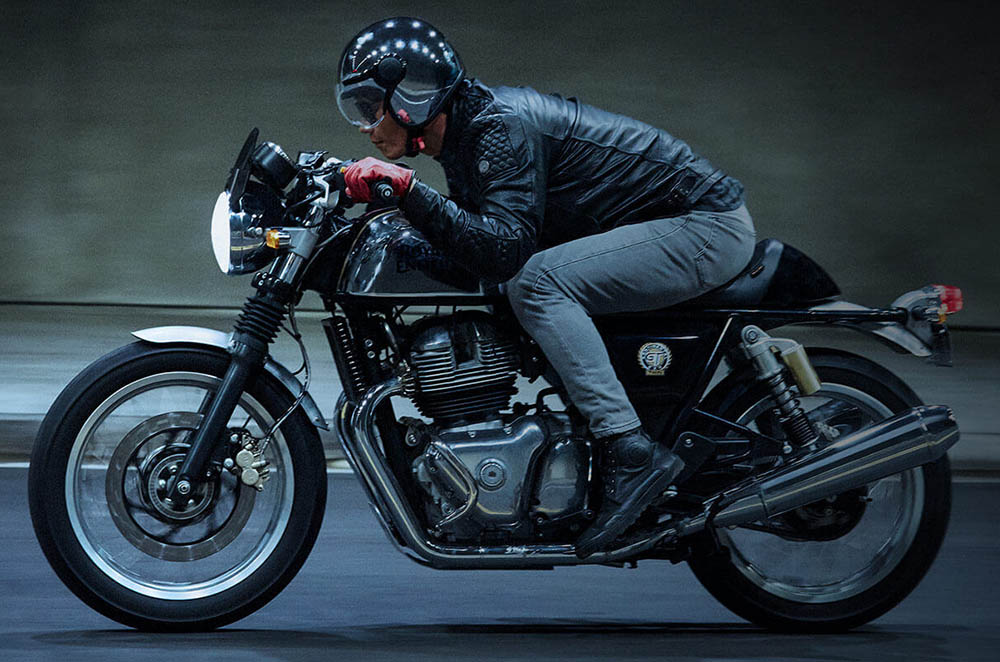 The Continental GT 650 is Royal Enfield's cafe racer offering among its twins. It's got the old-school charm of the 1960s when a whole subculture of Mods and Rockers was born out of London and motorcycles raced the streets from one cafe to another. The Continental GT 650 harks back to the motorcycles of that time, but with the reliability of modern technology. So instead of trying to turn an old motorcycle into a cafe racer, and worry about whether or not it breaks down on your next trip, the Continental GT makes sure you reach your next destination. With the option of a single-seat rear cowl, and with its clip-on handlebars that are positioned a little bit higher for more riding comfort, you can still crouch like you mean it to the next cafe — without hurting your wrist or back too much. You'll definitely get attention as you ride down the road.
Custom Friendly
When Royal Enfield developed the new Continental GT, they already had their sights on the thriving custom scene. They even commissioned a number of builders to let their creative juices flow in making a custom Continental GT just to prove how versatile the motorcycle is when it comes to modding. It is built on a relatively simple platform which makes it easier for builders to take apart and fabricate parts for. The motorcycle is also devoid of any complicated electronics other than the essentials such as ABS and a pass switch. In other words, it is still a motorcycle in its purest sense giving the most genuine connection a machine can give to its rider which also makes it more appealing to the custom scene. Among the prominent custom builders who have ever built one of the most unique custom creations of a Royal Enfield Continental GT was Winston Yeh from Taiwan of Rough Crafts Customs, as shown in the photo above.
Improved Engine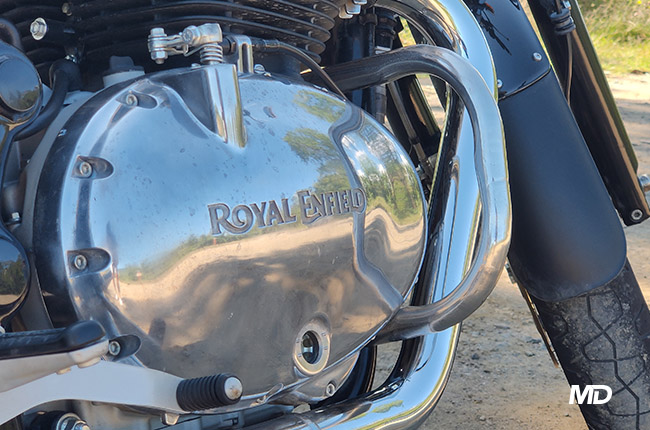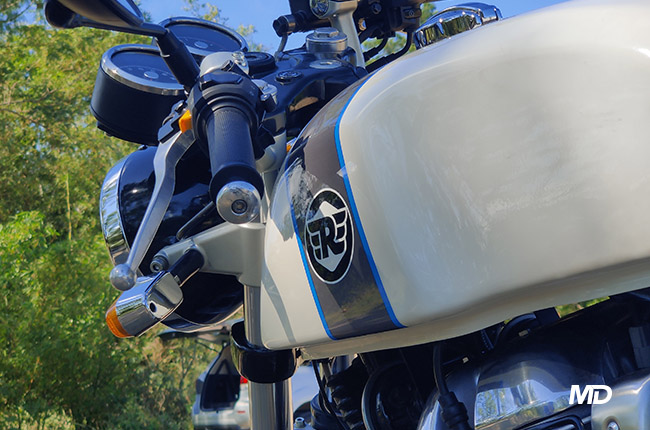 Prior to the creation of the Royal Enfield Twins, their motorcycles all ran under pretty much the same format with twin-spark single-cylinder engines with a displacement of either 350cc or 500cc depending on the motorcycle variants following the same engine design since the first Royal Enfield Bullet from the 1950s. However, the single-cylinder Royal Enfield engines were notorious for its vibrations, excess weight, and did not really offer a whole lot of performance. It comes as no surprise considering not much has been updated from its original design. With its new 648 cc twin-cylinder engines present in both the Continental GT and Interceptor, it now comes with its best performing engine yet. It is now capable of churning out 47 hp and 52 Nm of torque, power figures that have never been seen on a Royal Enfield motorcycle before. With this in mind, you would now feel more comfortable putting in more speed on the highway with the Continental GT, without losing sight of the vehicles on your side-mirror, thanks to a smoother and better-performing engine.
Timeless Design
With just one look at the Continental GT 650, you already know that it will stand the test of time, in fact, it looks like it's already stood the test of time. That's one thing they got right with the rest of their motorcycles. Their designs remained relatively unchanged. A classic never goes out of style if you will. With its round headlights, clip-on handlebars, and a silhouette with lines flowing seamlessly from the bottom of the tank all the way to the rear subframe, it stays true to its cafe racer design traits. The Continental GT 650 is that type of motorcycle that you could keep for a long time, and never get sick of looking at with admiration provided that's your niche. It will still look good even when it's just parked in your garage with you just sitting back and admiring its beauty.
Value for Money
With the Continental GT, owning a modern classic motorcycle wouldn't cost you an arm and a leg, especially if you pit it against other modern classics from other brands such as the Kawasaki W800 or the Triumph Bonneville T100. With a price tag starting at P375,000, compare it to the Kawasaki's budget and you'll still have a little bit more to customize the bike and get some accessories. Compare it to the Triumph's price tag, add just a little more and you'll be able to buy two Continental GT's, or maybe an additional Interceptor instead. The bottom line is, Royal Enfield was able to give you really good value for money for the motorcycles you get from their twins by keeping their prices relatively low without sacrificing too much on the quality, style, and performance you get from them.
---
---
Related Articles
The Royal Enfield Continental GT 650 has taken the world by storm and has captured the hearts and minds of enthusiasts all over the world.

The Royal Enfield Continental GT 650 is one of the best modern cafe racers you can get your hands on.
---
Latest Features
Here are a few things that make the Harley-Davidson Pan America the most versatile Harley on the market.

Here's a step by step guide on how to replace the brake pads on your motorcycle equipped with monoblock calipers.

If you're looking to get into big bikes, or are looking to add a middleweight naked to your collection, here are 4 reasons why you ought to consider the Triumph Trident 660.