/ Review
BMW F 900 R Standard Review
BMW's naked roadster that's ready to go against the Japanese middleweights
When BMW launched the F 900 R, the brand wanted to gain a strong foothold on the growing middleweight market, a segment that's been dominated by the big four Japanese motorcycle brands. When it was finally shown to BMW fans, it was praised with the traits of being self-confident, sporty, active, and focused on a dynamic experience. The bike was meant to convey a sense of freedom and a modern lifestyle. After spending a decent amount of time with the F 900 R in its Standard trim, it's not difficult to see why it was described this way. It's easy to see how this bike could potentially disrupt the middleweight naked segment.
BMW F 900 R Standard Review
What You Will Like
Very attractive price point.
Great value with safety and tech.
One of the best TFT displays in the market.
What You Won't Like
You'd have to pay more for the additional features.
Design
When the design brief was given for the F 900 R, BMW wanted to create a dynamic roadster made for purist fun. BMW didn't try to introduce a cliche bike in the form of another modern classic. Instead, they wanted to make a statement, with something aggressive, but not as intimidating as their other BMW motorcycle offerings. With one look at the F 900 R, the statement becomes even clearer, this German roadster will give most of the middleweight Japanese naked bikes a run for their money. It has sharp looks, a muscular front end, and a silhouette unique from the rest of the BMW range. A far improvement from its predecessor, the F 800 R.
The muscular appearance of the F 900 R's front end is made by the tank's unique hunched up shape. Yet, a closer look would show you some sharp angular lines that appear when it gets hit by light. The side panels connected to its radiator makes the front end look even wider, yet the tank's cutaway still allows you to narrowly squeeze your knees against it and hide behind those panels. Its full-LED headlight has a unique polygon shape with a centerline separating its upper and lower sections. It also functions as daytime running lights.
From behind, the F 900 R's tail end rises up, as most naked streetfighters do. It has a tail tidy that extends several inches further from the seat itself. It also houses its tail light, turn signals, and plate holder. However, if you're looking at it from behind, it surprisingly doesn't appear to be extending outwards. Its muscular front-end still manages to somehow taper down to its tail section with a clean unobtrusive look.
Performance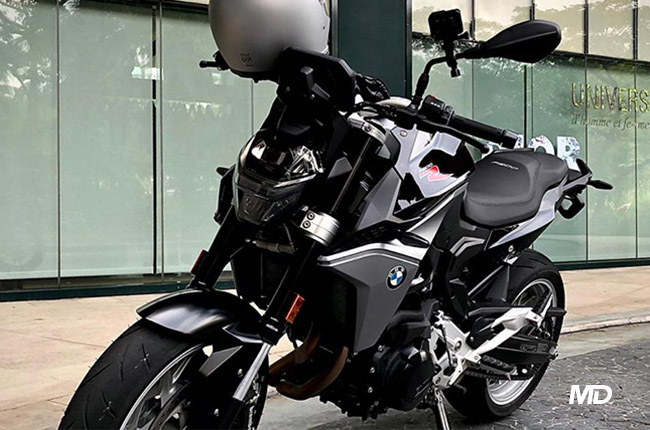 The BMW F 900 R has a bored up version of its parallel-twin engine seen in the F 800 GS. Bore diameter is now 86 mm while stroke remains at 77 mm effectively bumping up its displacement to 895 ccs. The parallel twin's cylinders fire at 270 and 450 degrees of the crankshaft rotation giving it its unique deep rumbling sound that you'd normally only hear in V-twin engines. Its engine is capable of producing 105hp and 92 Nm of torque and can accelerate from 0 to 100 km/h in 3.7 seconds.
Its controls have smooth actuation, some of the nicest we've felt on a motorcycle of this class. Its foot controls are quick and responsive, making shifting and finding neutral nice and easy. Its slipper clutch has a nice squeeze whether launching from dead stops or shifting gears. However, it doesn't have an assist function. Its ride-by-wire throttle brings a smooth power delivery according to the selected riding mode, but only two are on offer namely, Rain and Road. The F 900 R has a slightly shorter wheelbase compared to its predecessor and it also has a small enough turning radius to make some tight U-turns.
Despite its wet weight of 211 kg, it still manages to keep a low center of gravity with much of its weight right below your knees. This makes its handling more manageable than it should be especially around corners. On the highway, its rev limiter can go as high as 9,250 if you want to push it. It has flickable power at your beck and call and overtaking other vehicles wouldn't be much of a problem. Stopping duties are provided by 320 mm floating discs w/ 4-piston radially mounted calipers up front and a 264 mm disc w/ a single-piston floating caliper for the rear. Dual-channel ABS is provided by Brembo. The responsiveness of the brakes and its ABS intervention can be felt even in situations where you think you wouldn't need it, which gives you a little more peace of mind.
Comfort
While the BMW F 900 R has an aggressive look, its ergonomics still make it suitable for all sorts of riding. Whether it be a day in your local track, as a day to day commuter ride, or as a tourer for your weekend leisure trips, it can do it all. As a naked streetfighter, you can expect it to have a sporty and forward-leaning stance. Because the tank does have a hunch the handlebars appear lower than they are. However, since they're clamped on risers and the tank's length is still a manageable distance, it wouldn't force you to be leaning forward as much. This saves you from straining your back and wrists on those longer rides.
The foot controls are positioned a little bit swept up and back for about a quarter of an inch compared to the F 800 R. You would feel the swept-back placement of your feet with your knees a little more bent. It's a novel feeling at first when you mount the bike, but after a few hours of riding, you'll eventually get used to the positioning of the footpegs.
To keep bumps and road imperfections at bay, the F 900 R is equipped with a 43 mm inverted fork with 5.3 inches of travel up front and a mono-shock setup for the rear with 5.5 inches of travel. With adjustable preload and damping, it does a good job of providing a ride that's not overly stiff to feel those road imperfections on your butt, but neither is it too soft to give you a bouncy ride.
Tech and Safety
As a modern naked roadster built by BMW, you can expect it to have all the tech and safety features that come with the BMW badge. The first thing you'd notice after mounting the bike is its impressive 6.5-inch full-color TFT screen. It's visible in all sorts of lighting conditions and it plays a short BMW welcome animation after switching the bike on with the push of a button. The F 900 R didn't come with a traditional key that you'd have to twist and turn to start the ignition. It can stay in your pocket the whole time. Just make sure you don't drop it while driving down, as it would disengage your engine after you reach a certain distance.
As mentioned earlier, the F 900 R comes with two riding modes for the Standard variant, Road or Rain. Riding modes can be selected by the control wheel located on the left side of the handlebar and shown on the TFT display. If you pay a little more extra, you can get "Riding Modes Pro" options as a package, giving you additional riding modes "Dynamic" and "Dynamic Pro". You can also opt for even more advanced Dynamic Traction Control DTC, banking capable ABS Pro with Dynamic Brake Control (DBC), and the new engine drag torque control (MSR) as additional tech and safety features. BMW also offers an adaptive cornering light function for its headlight as an option.
Usability
The BMW F 900 R was designed to be versatile enough for all sorts of riding situations. Since BMW designed it to be pitted against Japanese motorcycles, oddly enough, it also has dimensions similar to Japanese naked bikes. Thus, its shorter wheelbase makes it extremely maneuverable even around tight city streets despite its muscular appearance. Yet, once you open up its engine down the highway, somewhere above the 5,000 rpm rev range, you could really start feeling the power delivery of that parallel-twin engine. BMW claims that it can reach top speeds of up to 216 km/h, but of course, with city driving and a short trip down to Nuvali, we didn't even think of attempting to test its limits. However, for the leisurely trip out of the city, it was such a joy to ride. It can keep up with larger motorcycles, and it has no problem overtaking other vehicles, and yet it is still agile enough for a big bike to take around the city as a daily ride. With the Standard trim priced at P655,000, it makes a very tempting proposition to veer away from similarly priced Japanese motorcycles, which is exactly what BMW wants you to do.
Verdict
When BMW introduced us to the F 900 R, they made sure that the motorcycle had everything we needed, and even more. Its aggressive styling is right on point. Its handling and performance, superb. Its tech and safety features are right there, and if you're willing to shell out a little bit more, you will get even more tech and features. BMW truly gives you all the options to make this bike truly your own. With the F 900 R, you get the prestige of the BMW badge. With its very attractive price point, people wouldn't find it hard to justify it as their next middleweight naked purchase.
---
---
Related Articles
We took the NMAX 155 on the road to see why it's the best-selling scooter in the country offered by Yamaha.

3.7

/

5

We take the MV Agusta Brutale 800 out for a ride to give you a better understanding of why they are dubbed as 'Motorcycle Art'.

4.2

/

5
---
Latest Review
Read on to learn more about the capable Aprilia Tuono 660, a disruptive force in the middleweight sportbike segment.

4.4

/

5

We got the chance to run the 2023 Triumph Speed Triple 1200 RR through its paces, and needless to say, it was a thrilling, adrenaline-fueled ride.

We recently got our hands on the shiny new Shark Spartan RS helmet, and we were thoroughly impressed.