/ Review
2023 KTM 890 Duke R—First Ride Impressions
Is there a new top dog in the middleweight naked bike segment?

on Jan 27, 2023
I remember the first time I laid eyes on the KTM 790 Duke when it hit the market back in 2018. Back then, I was a KTM owner myself, with not one, but two orange machines in my stable—my daily driver, a KTM 200 Duke; and funnily enough, a 390 Duke as my weekend toy. Needless to say, the 790 Duke immediately caught my eye as the supposed next bike in my stable.
For whatever reason this would not come to pass. However, I did have the privilege of riding the 790 Duke on several occasions—some of which even on the race track. Needless to say, the 790 Duke set the benchmark for me when it came to premium middleweight naked bike performance, only to be outdone by a bike which now occupies my stable—the Triumph Street Triple RS. That being said, when KTM announced that it was releasing a souped up naked bike rocking the updated iteration of the LC8c engine, a part of me knew that there was soon going to be a new leader in the premium middleweight naked bike segment.
What's so special about the KTM 890 Duke R?
At a glance, especially to the untrained eye, the KTM 890 Duke R is nearly identical to the 790 Duke. However, upon closer inspection, you'll notice that the 890 Duke R looks a little bit different. First of all, its stance is slightly more aggressive—with a taller ride height thanks to tweaked suspension hardware. The differences become even more apparent when you sit on it, as the 890 Duke R has higher, more rear-set foot pegs. It's also 1.5 inches taller, which translates to higher ground clearance, and yes, unfortunately for height-challenged riders, a taller seat.
While you're seated on the bike, you'll notice that the cockpit is different, too. Instead of the J.Juan brake master cylinder found on the 790, you see a sleek, blacked out Brembo MCS master cylinder sitting in its place. This will surely pique your curiosity, as you step off the bike and take a look at the front brake calipers. Voila! A pair of Brembo Stylema monoblock calipers provide some of the best braking performance available to street bikes. Meanwhile, at the back, a single-piston sliding caliper from Brembo handles braking duties.
As for suspension, KTM has gone all out with the 890 R. While the 790 is already blessed with premium WP hardware, the 890 R takes things to eleven with a full WP Apex Pro setup up front, with adjustable rebound damping and compression. The rear monoshock, also from WP, is fitted with all the same adjustability.
What's it like to ride?
When you switch on the ignition, wait for the fuel pump to prime, and finally thumb the starter, the 890 R sounds and feels identical to the 790 Duke. It's once you kick it into gear and get going that you realize that this bike is a completely different animal. Right off the bat, fueling is much richer at the bottom end. The engine doesn't stumble at low revs, and delivers gobs of torque essentially from idle. On paper, the 890 Duke R has 16 horsepower more than the 790 Duke. In reality, it feels like it has 50-percent more power, given just how much torque is available off the line. Dare I say that the 890 Duke R could even put some liter-class naked bikes to shame in terms of sheer acceleration alone.
Engine performance aside, you can't fully appreciate what the 890 Duke R has to offer until you take it up and down a twisty road. All I can say is that I was grinning from ear to ear every single second of the way. The entire setup—the bike's featherweight chassis, razor-sharp suspension, ultra-precise braking system, cutting-edge technology, and hooliganistic engine—was working in seamless harmony to provide an unparalleled riding experience. All I could think about was how amazing this bike would perform on track. Hopefully KTM Philippines will grant me that opportunity one of these days.
The new king of the middleweight segment?
KTM has always had a thing for making its machines sit on the bleeding edge of performance and technology, and the 890 Duke R is the perfect exercise of this. I can't possibly think of one thing I could add (apart from an exhaust system) to make the 890 Duke R even better, and it's precisely because of this that I can say that it just has to be one of the best—if not the very best—premium middleweight naked bike in the market.
What I do have to note is that the 890 Duke R certainly isn't for everyone. Beginner riders without the in-depth skills and know-how to tame a beast of this nature will be scared off by what this bike has to offer. Conversely, casual riders who don't care too much about performance will not be able to appreciate the technology this bike brings to the table, especially when compared directly to its near-identical twin, the 790 Duke. Who this bike is for, is somebody who knows exactly what they want—someone who can look beyond logic and practicality in exchange for uncompromising performance.
Denouement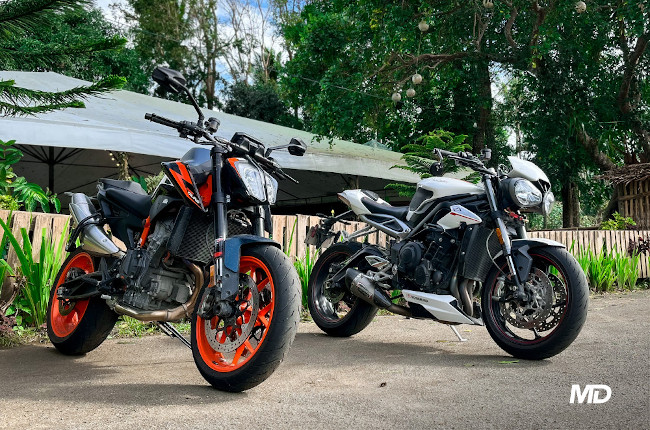 Clearly, this first-ride review isn't all-encompassing, and a lot of things about the KTM 890 Duke R have been left out—either intentionally or because I have yet to experience it all. Whatever the case may be, we'll certainly be talking about this bike quite a bit more in the future, and I may or may not have had the opportunity to test this bike back to back (and alongside) my Triumph Street Triple RS, so be sure to be on the lookout for that.
At present, KTM Philippines has already confirmed that the 890 Duke R will be sold locally. In fact, a few demo units have already been activated (including the one I got to test). Having said that, the final price of the 890 Duke R has yet to be announced. That being said, don't get your hopes up if you're expecting it to be priced within the same ballpark as the 790 Duke. Remember, the componentry on offer on the 890 Duke R is akin to that of class-leading supersport machines.
Photo Gallery
---
Related Articles
Read on to learn more about the capable Aprilia Tuono 660, a disruptive force in the middleweight sportbike segment.

4.4

/

5

Let's take a closer look at Kawasaki's flagship adventure tourer, the Versys 1000, and see if it really lives up to its name as a versatile machine.

If you're in the market for a new pair of touring boots, Falco's Land 3 could fit the bill perfectly. Read more about it here.

Furygan, a French gear manufacturer, has a new street jacket in the form of the Speed Mesh Evo. Let's take a look at its features and why I think it's one of the best street jackets out ther...

Let's take a closer look at the new 2023 Triumph Street Triple RS, and what it has to offer now that it's packing more tech and performance than ever before.
---
Latest Review
Read on to learn more about the capable Aprilia Tuono 660, a disruptive force in the middleweight sportbike segment.

4.4

/

5

We got the chance to run the 2023 Triumph Speed Triple 1200 RR through its paces, and needless to say, it was a thrilling, adrenaline-fueled ride.

We recently got our hands on the shiny new Shark Spartan RS helmet, and we were thoroughly impressed.