/ News
Would you like to see the CAKE Ösa in the Philippines?
An award-winning electric scooter with utility in mind.

on Mar 01, 2021
---
We've seen some of the most quirky and interesting electric scooters in recent years. From machines designed to be simple point-A-to-B commuters, to electric scooters loaded with tons of tech and performance, there's no denying that these sustainable two-wheelers are the vehicles of the future. One electric motorcycle manufacturer in particular, has set the bar when it comes to the ultimate utility electric scooter.
Swedish electric motorcycle manufacturer CAKE has received numerous awards for its Ösa electric scooter. At first glance, it would be hard to tell what kind of scooter the Ösa actually is. Is it an e-bike? An off-road scooter? A commuter? Well, it's all of those and more. Drawing inspiration from the humble workbench, the CAKE Ösa features a multitude of possible configurations that suit people of various lifestyles and professions. The scooter's chassis consists of a large bar on which multiple accessories can be mounted.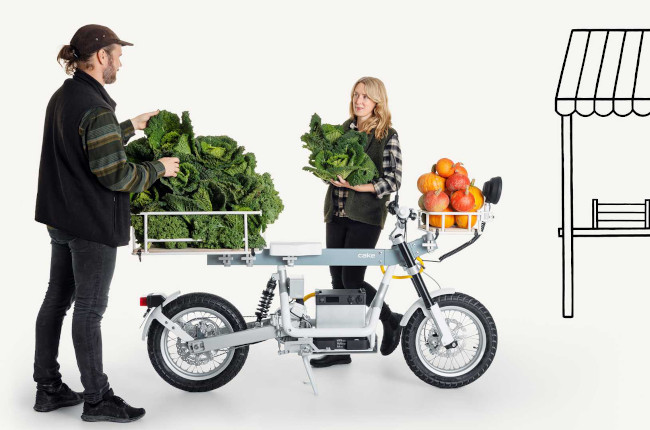 CAKE boasts loads of accessories ranging from bags, baskets, tools, and brackets which feature a clamp-on design to the Ösa's frame. In fact, there are more than a thousand different configurations available for this quirky electric scooter. At the heart of the Ösa is a powerful lithium-ion battery, which not only powers the engine, but also serves as a power station for the rider to plug in multiple devices such as gadgets, power tools, and other equipment. Lastly, the Ösa is equipped with knobby dual-sport tires, enabling this little scooter to traverse light, off-road terrain. This makes it the perfect companion for those whose trades are in the field of construction, engineering, and agriculture.
While there is currently no exclusive dealer for CAKE's products in the Philippines, the Ösa, as well as the company's other bikes, can be purchased globally online at ridecake.com. The Ösa features two models—the Ösa Lite and the Ösa+. The Lite is a more beginner-friendly option with a top speed limited to 48 kilometers per hour. It comes with a price tag of $6,500, or P325,000. On the other hand, the more premium Ösa+ model features a top speed of 100 kilometers per hour, and fetches a sweet $8,500, or P425,000.
---
Related Articles
Segway has pulled the covers off of its new electric hydrogen hybrid motorcycle concept.

Vespa has launched the special edition Primavera Picnic, for those looking for a leisurely day outdoors

The Suzuki Hayabusa could be launching in the Philippines soon. The super sportbike is beginning to enter the Asian market.

Yamaha has secured patents for a whole fleet of R-series bikes ranging from 1 to 9, plus a few others.

MV Agusta has updated the Superveloce range of sportbikes based on the F3 800.
---
Latest News
Iconic British motorcycle manufacturer, Norton, has opened a new factory which is capable of producing 8,000 motorcycles annually.

MV Agusta has unveiled the special edition Turismo Veloce Lusso SCS.

Motorcycle exhaust specialist Akrapovič is celebrating 30 years in the business