/ News
Weisenke Power Technology files a patent for a new 4-cylinder engine
Are they making a copy of Honda's inline-four?

on Sep 11, 2020
---
Over the last 20 years, Chinese motorcycle manufacturers have produced some single and parallel twin-cylinder models, that have become popular and have populated the Chinese market and some of its neighboring Asian countries. Yet, with the exception of a few like perhaps CFMoto, the motorcycles they introduced have been pretty mundane and made little impact with the motorcycle industry as a whole. Despite this, a new patent of another Chinese motorcycle brand has been filed showing a new four-cylinder engine that could potentially raise the eyebrows of its Japanese counterparts, like the Honda CB650R.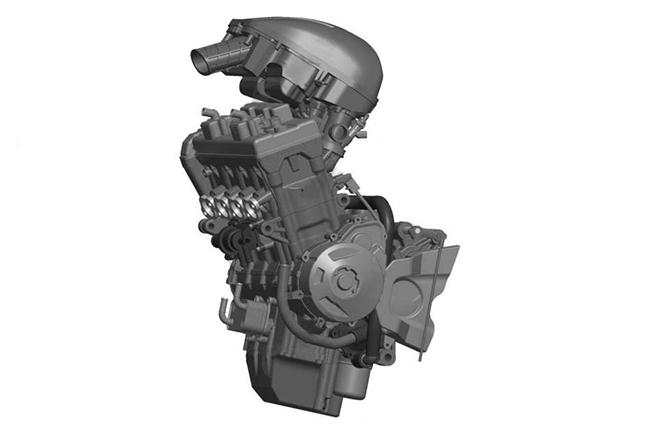 From the looks of it, the Chinese motorcycle manufacturing industry is marching forward with the advancement of engine design that could change the preconceived notions of its underperforming designs from the past. Evidently, they want to catch up and be at par with most of the major European, American, and Japanese motorcycle brands.
The new patent sketches show an 800 cc, inline 4-cylinder engine being developed by Wuyi Weisenki Power Technology called the VSK800. It's a modern-looking powerplant, with some dimensions to make it fit for either a middleweight sports bike or naked streetfighter. Its inspiration can easily be gleaned from its similarities to the engines of the Honda CBR650R and CB650R motorcycles. The engine's water pump, mounting points, cam-chain cover, and even its engine casings have a striking resemblance to Honda's designs. Of course, the designers of the VSK800 say that the engine was fully developed in-house, without any copying or reverse engineering towards Honda's engine designs — although Honda might say otherwise.
It should be remembered that in the past two decades or so, most of the single-cylinder and parallel-twin engines that ever came out of China were mostly derived from existing designs from major Japanese manufacturers like Honda and Suzuki. Not many details have been revealed about the official specifications other details about the patent's engine design other than its displacement. Although, we can expect it to be slightly less efficient than Honda's design. Neither will its higher displacement yield more increase in power given its lack of knowledge with layouts that Honda has spent several decades worth of experience with. It's fair to assume that it could have a comparable output of around 100 hp. Yet, until at least the concept is presented, we'll all have to wait and see.
---
Latest News
Segway has pulled the covers off of its new electric hydrogen hybrid motorcycle concept.

Vespa has launched the special edition Primavera Picnic, for those looking for a leisurely day outdoors

The Suzuki Hayabusa could be launching in the Philippines soon. The super sportbike is beginning to enter the Asian market.