/ News
Motorcycle barriers no longer required for back-riding for areas under GCQ
For as long as certain conditions are met.
---
Authorities have said that for areas under General Community Quarantine (GCQ), motorcycle barriers are no longer necessary for back-riding for as long as both the driver and rider live in the same house starting today, August 19, 2020. Joint Task Force (JTF) COVID Shield stated on Tuesday that the new measure was approved by the task force along with other measures for motorcycle back-riding.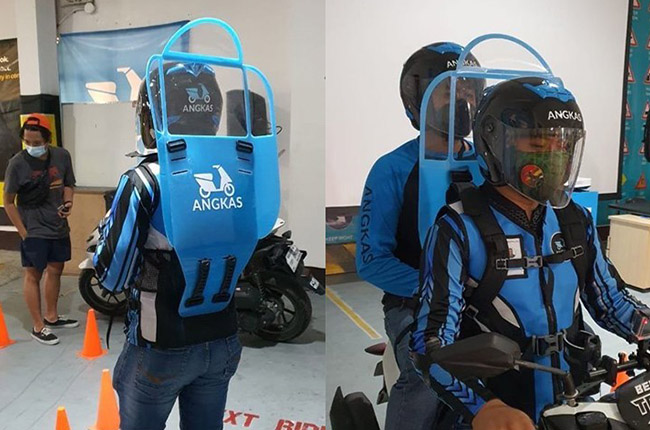 However, Police Lt. Gen Guillermo Lorenzo Eleazar, commander of the JTF COVID Shield said that riders who are not living within the same household are still required to use a barrier. Checkpoints will still be in place along the Metro to ensure compliance.
"All they have to do is to present proof that they indeed live in the same house to avoid being apprehended and cited for violation of the motorcycle back-riding."
It should be stressed that the back-rider must be an authorized person outside of residence (APOR), while the driver may or may not be. In any case, both are still required to wear a face mask and a full-face helmet. Also, the motorcycle being used should be privately owned, according to the JTF. The guidelines prepared by the JTF COVID Shield were released to local government units and they have the option to implement the measures depending on the current situation of their respective areas.
Last Monday, it was announced that Metro Manila and the neighboring provinces of Bulacan, Cavite, Laguna, and Rizal will revert back to the more relaxed General Community Quarantine (GCQ) starting today, August 19, 2020, until August 31. It was also added that as Metro Manila and its neighboring provinces revert back to GCQ, the government also recalibrated its response against the pandemic while easing travel restrictions for commuters and other motorists.
---
Related Articles
Salvador Panelo, the Chief Presidential legal counsel, has proposed an outright ban on pillion riding in a bid to curb motorcycle related crime.
---
Latest News
Moto Guzzi celebrated its rich history during the 2023 Moto Guzzi Open House in Mandello del Lario, Italy.

Yamaha and CFMOTO are now working together on a new joint venture called Zhuzhou CF Yamaha Motor Company (ZCYM).

Honda has released the updated BeAT 110 in the Philippines, with new colors and technical refinements.