/ News
The Kawasaki Ninja H2 SX might be getting a camera system soon
A recent patent application may confirm what we saw from last year's spy photos.
on Feb 15, 2022
---
It's no secret that Kawasaki is positioning itself as a leader in advanced rider-assist technology. The 2022 Ninja H2 SX helped prove to many that radar has a place in modern motorcycles by packing front and rear radars, enabling a selection of new features previously unseen in any Kawi.
While radar is a massive step forward in every way, it appears Kawasaki is getting ready to take yet another significant leap by equipping its flagship sport-tourer with a camera-based system.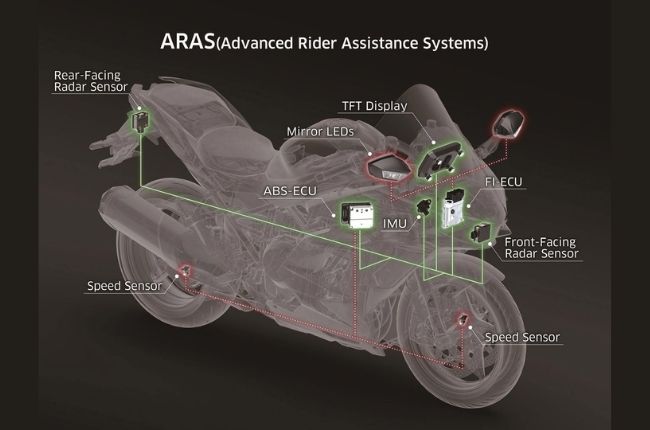 The radar system on the 2022 H2 SX already allows for features like adaptive cruise control, collision warnings, and blind-spot monitoring. Bosch lent its expertise to this system, giving it an understated appearance that blends in well with the bike's aesthetic. As we've come to learn from cars, radar is good, but radar and cameras are almost always better.
In this regard, Kawasaki has filed new patent applications for a camera-based system mounted at the front of the motorcycle. The patent filing seems to confirm what spy photos of a prototype H2 SX showed—a camera system sitting behind the bike's TFT display, complete with a molded plastic panel.
What does this tell us? Kawasaki's camera system isn't just a patent but a full-blown product that the company has tested for an undetermined amount of time. Furthermore, the patent application states that the cameras can enable features like adaptive headlights and enhanced collision mitigation. Looking at how camera systems function in cars, we could assume that future Kawasaki models could gain advanced object recognition, including detecting pedestrians, vehicles, and road signs.
Could the 2023 Kawasaki Ninja H2 SX gain a camera-based system to augment its already capable front and rear radar setup? It wouldn't be impossible, but so far, Team Green has not given any indication that this is the case. We'll have to wait a bit more to know if Kawasaki is ready to take the next step in rider-assist technology.
---
---
Related Articles
The 2023 KLX230SM has been unveiled by Kawasaki in Japan. The bike has 17-inch wheels but comparable underpinnings as the normal KLX230.

The equipped traction control unit isn't as advanced as an IMU, but it likely gets the job done.

Kawasaki updates the 2023 Ninja ZX-10R with a new KRT livery. The performance and mechanical features of the bike remain the same.

Details about Kawasaki's upcoming Ninja ZX-4R have come to the surface, the new bike is expected to hit the global market in 2023.

Kawasaki is preparing to launch the ZX-4R supersport bike by 2023 according to sources.
---
Latest News
BMW updated the S 1000 RR for the 2023 model year with aero upgrades and tweaks to the bike's frame and geometry.

The Honda Rebel 500 and the Honda CB1000R get a few minor updates in the European market.

The send-off party is part of the brand's Hero Creation Program which aims to send a Filipino into MotoGP.