/ News
Kawasaki adds a few more dirt bikes to its 2021 KLX and KX lineup
They want you to experience the difference on the dirt track.
---
A little over a month after Kawasaki released its 2021 lineup of KLX and KX dirt bikes, it seems Team Green wasn't done yet. Kawasaki Motors has just released the second wave of its dirt bikes and motocrossers to finally complete its lineup.
From the KLX lineup, the new additions include entry-level KLX110R, KLX230, and the KLX 300R. Kawasaki also unveiled an updated KX250, KX450, and a pair of all-new XC variants. Both entry-level KLX110R and KLX110R L still run on the same 112 cc four-stroke single engine with a high-tensile steel frame, 30 mm front fork and rear monoshock.
The KLX300R still runs on the same 292 cc single mated to a six-speed transmission. Meanwhile, the road-legal Kawasaki KX230 which was first introduced in 2020 makes a comeback for 2021 as its new dual-sport race machine.
The prices for the 2021 Kawasaki KLX lineup are as follows:
2021 Kawasaki KLX110R: $2,349 (P117,000)
2021 Kawasaki KLX110R L: $2,549 (P122,000)
2021 Kawasaki KLX140R: $3,149 (P156,080)
2021 Kawasaki KLX140R L: $3,449 (P170,950)
2021 Kawasaki KLX230R: $4,399 (P218,000)
2021 Kawasaki KLX230: $4,599 (non-ABS), $4,899 (ABS) - (P243,000)
2021 Kawasaki KLX300R: $5,499 - (P273,000)
However, from its second wave of dirt bikes, the 2021 KX250 and the KX450 and their XC counterparts are the ones that got the most performance upgrades. The 2021 KX250 now runs on an upgraded 249 cc engine that now produces more peak power with a brand new aluminum frame, slimmer bodywork, an electric starter, a new coned disk-spring hydraulic clutch, and more performance-oriented brakes and suspension.
The 2021 KX450 gets the same upgrades including the coned disc-spring hydraulic clutch as the 250 with a dry film lubricant coating on the piston skirt and a larger-diameter clutch plates for improved performance on the dirt. However, its 449 single-cylinder engine remains unchanged for 2021.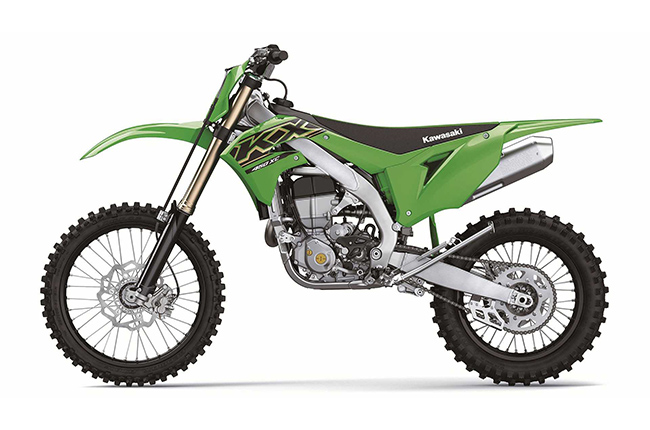 For its 2021 XC lineup, the KX250XC and the KX450XC receive trim-specific features for its competition-ready machines with optimized engine and suspension settings, 21-inch and 18-inch wheels front and back paired with Dunlop GEOMAX AT81 tires. Stopping duties are provided by performance Nissin brake components with a new reinforced skid plate and kickstand. The 250XC gets a Kayaba suspension setup while the 450XC gets an upgraded Showa suspension kit.
Pricing for the new 2021 Kawasaki KX and KX XC lineup is as follows:
2021 Kawasaki KX250: $8,299 (P411,340)
2021 Kawasaki KX250XC: $8,399 (P416,300)
2021 Kawasaki KX450: $9,399 (P466,000)
2021 Kawasaki KX450XC: $9,599 (P476,000)
The 2021 KLX lineup and KX250/450 lineup are now available in dealers in the USA while the additional KX250XC and 450XC are expected to be available in the next following months.
---
Related Articles
MV Agusta has rolled out numerous updates to the 2021 Brutale and Dragster 800

Royal Enfield has updated the Royal Enfield Himalayan for the 2021 model year. Here's a rundown of those updates.

Bristol has launched the 2021 Bristol Bobber 650. The new cruiser is priced at P398,000

Ducati has launched the Multistrada V4 in the Philippines at P1.7M

Suzuki has updated the Suzuki Hayabusa, and will officially launch the bike on February 5. Here's what we can expect from the new 'Busa.
---
Latest News
South Bikes Community held another Bike Night in Alabang Town Center on January 26, 2023.

CFMOTO is reportedly developing a new V4-powered superbike, according to recent patent applications in China.

Autohub has recently inaugurated the second branch of Moto ACCS, an all-in-one motorcycle gear and accessories shop in Greenhills, San Juan.