/ News
Honda Philippines salutes delivery riders working during ECQ
Our delivery riders also deserve recognition during these trying times.

on May 04, 2020
---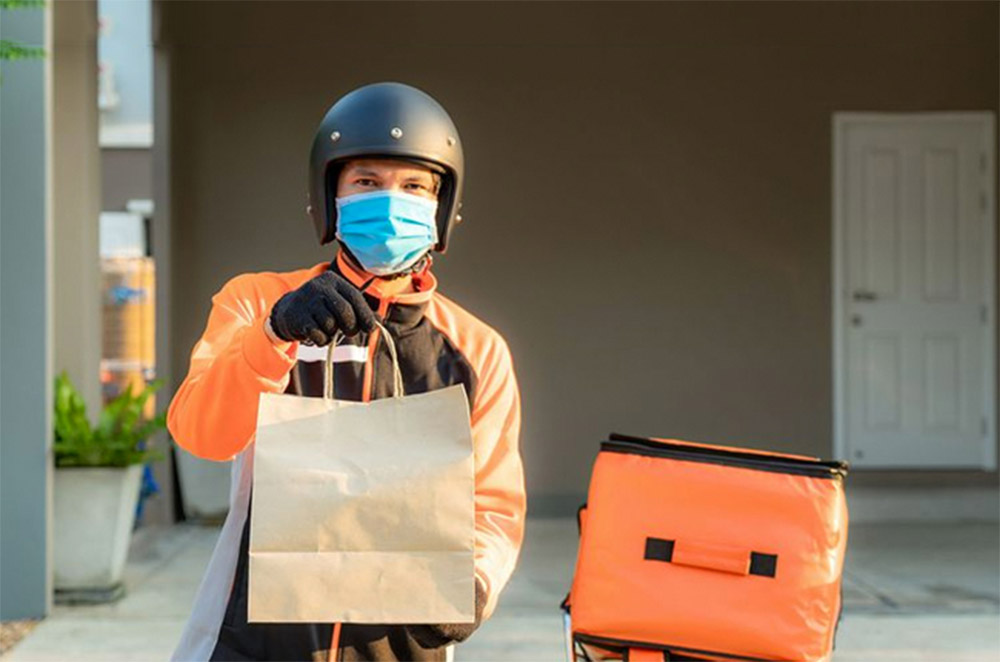 Honda Philippines salutes the delivery riders who worked hard during the quarantine period just to make sure of the efficient transportation of essential goods and services. Many of us were worried about how we would go about the quarantine period while being immobilized. Luckily, delivery service couriers such as Grab, Food Panda, and Lalamove continued their operations of delivering food, essential goods, and medicines. Even motorcycle taxi operators Angkas and Joyride, repurposed their fleet of riders to provide delivery services during the Enhanced Community Quarantine (ECQ) period allowing them to continue having a source of income as their motorcycle taxi services have been suspended for the time being.
The report, "Consumer Behavior During The Pandemic" stated that lockdowns and quarantines have reduced mobility in the Philippines and Malaysia by 80%, and 60% in Singapore and Vietnam. More particularly, traffic congestion around Metro Manila was significantly reduced as quarantine measures forced everyone to stay home to prevent the spread of the coronavirus. Because of this, citizens relied heavily on the e-commerce industry and delivery services they provided to bring vital food and medicines to those who are forced to stay at home. Our government made sure that delivery riders used safety precautions, exercised proper hygiene, and wore face masks and gloves while transacting with customers.
The president of Honda Philippines, Susumu Mitsuishi recognized their contributions as among the country's most important frontliners during this difficult time and saluted them as they made use of Honda motorcycles such as the Honda BeAT and Click in the delivery of essential goods and services.
I am proud to see that our motorcycles have become indispensable and are being used with a great purpose. A purpose of keeping people safe at home and encouraging social distancing, during this crisis. We also commend the effort of our Hero Riders as they offer courage and aid during this crisis.
This is true to Honda's "One Dream" campaign which helps fulfill people's dreams while experiencing the joy of mobility and even in today's challenging times, provide a safer way to access badly needed necessities even when most of us are forced to stay home. The delivery riders who also quietly risk their lives day in and day out just to service our needs are truly among the country's unsung heroes in this time of the global pandemic.
---
Related Articles
Indonesia's motorcycle sales figures outperform India's which have dropped due to the global pandemic and stricter emissions standards.

Honda files a new patent that deploys external airbags with different sizes and pressure depending on the size of the target hazards

Following the successful release of the award-winning designed CBR1000RR-R Fireblade, Honda is rumored to release a middleweight CBR650RR-R

The Honda CB-F Concept is based on the Neo-sports Cafe CB1000R but made to look more 80's Classic Superbike.

MDPPA reports a positive 1st half of 2017 with 13% sales growth.
---
Latest News
After more than 45 years of being out of production, Honda releases the new CB350 H'ness to take on the hotly contested 350 to 500 cc segment in India.

Rumors from Young Machine magazine predict that Honda could be developing new adventure touring motorcycle in the 250 cc range.

Triumph's upcoming roadster, the Trident clad in camouflage is undergoing its final testing stages revealing its signature triple engine.