/ News
Be sure to always wear a facemask while riding your motorcycle
Otherwise, you can be charged for reckless driving.

on Feb 01, 2021
---
Since the pandemic made its presence felt in full force in March of last year, every single one of us has had to make massive changes in the way we live our daily lives. These changes were both personal and government mandated. However, perhaps one of the biggest and most annoying mandates would be that requiring everyone to wear facemasks outside of their homes. That said, it is indeed necessary in order to curb the spread of the virus, and sacrificing a tad of convenience and comfort in exchange for added safety is definitely something that must be done.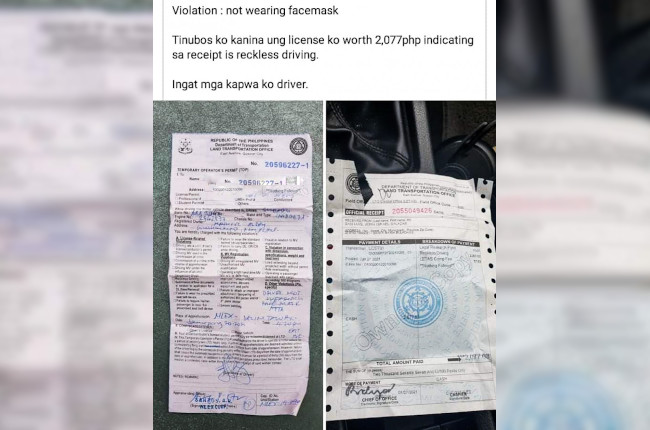 It has also been pretty clear for quite some time now that driving a car with a fellow passenger would require all people onboard to be wearing face masks as well. The enforcement of this regulation was seen when a driver, who was traversing NLEX without a facemask, was apprehended and ticketed with "reckless driving" as his citation. He was subsequently fined a hefty P2,077. For the record, under the LTO's Memorandum Circular 2020-2185, "Guidelines in the enforcement of regulations issued by the Department of Transportation relative to the operation of land transportation in the General Community Quarantine (GCQ) areas," it is indeed considered reckless driving to failing to comply with the sanitary mandated by the circular.
Going into more detail, Article IV, Administrative Sanctions, Grounds, and Procedure, Section 7 states that failure to comply with the sanitary protocols will indeed fall under reckless driving. Subsequently, the fee for this violation is pegged at no less than P2,000, but not more than P10,000. To make matters worse, frequent violators could face suspension and even revocation of their licenses. Now, on top of this regulation, facemasks have also been required at all times as long as individuals are outside their residences. So, of course, it is necessary to wear a facemask and/or balaclava underneath your motorcycle helmet while riding—both for compliance with the law, and your own personal safety.
---
Related Articles
CFMOTO launches four motorcycles in the European market.

Brake manufacturing giant Brembo has acquired 100% of Spanish competitor J. Juan.

Iconic British motorcycle manufacturer, Norton, has opened a new factory which is capable of producing 8,000 motorcycles annually.

Motorcycle exhaust specialist Akrapovič is celebrating 30 years in the business

Congress has approved the anti-drag racing bill on its final reading.
---
Latest News
Chinese motorcycle manufacturer Loncin has launched the Voge 300 DS adventure bike in Europe. Would you like to see this bike in the local market?

Brembo has launched a fancy light-up brake caliper in the form of the G Sessanta to celebrate the Italian company's 60th anniversary.

CFMOTO launches four motorcycles in the European market.