/ News
2018 MotoGP: Movistar Yamaha is ready to conquer upcoming season
New motorcycles, new look, and sights set on a new championship win
on Jan 26, 2018
---
The first pre-season test in Sepang is right around the corner, and the Movistar Yamaha MotoGP team is set and ready to continue working together to provide a platform to challenge for title contention in 2018. Featuring updated livery on their motorcycles and race suits, riders Maverick Viñales and Valentino Rossi are optimistic about the start of the new season.
With the reveal of the new motorcycle liveries and rider's suits, the biggest visual difference would be the Movistar M changing from green to white to better blend with the Yamaha Factory Racing aesthetics.
Last year proved to be difficult for the Movistar Yamaha MotoGP team, as nine-time world champion Valentino Rossi ended the season in fifth position after suffering injuries that took him out of title contention. With 115 Grand Prix victories to his name, we hope to see Valentino put up a good fight for what could be his 10th world title in 2018.
"Sincerely, I'm looking forward to starting the new season," says Valentino. "Last year, I had one win and six podiums, but also some problems and injuries. We want to make our fifth year with Movistar memorable, so this year we will be pushing as hard as we can. The test in Sepang will be important. It's the first opportunity for my guys to get together this year, which will be fun, but we'll soon get serious, because we want to get an idea of our level as soon as possible."
Maverick Viñales claimed third in the overall points standings in his first year with the Yamaha MotoGP team, becoming a force to be reckoned with. "Last year we had a really strong start at the first few rounds and we finished third in the championship," states Maverick. "This year we'll try to improve on what we did last year. We have a really good team, so I think it's only natural that we aim for the win in every race and ultimately for the championship title, but of course we'll only achieve this if we stay focused every session and push as hard as we can."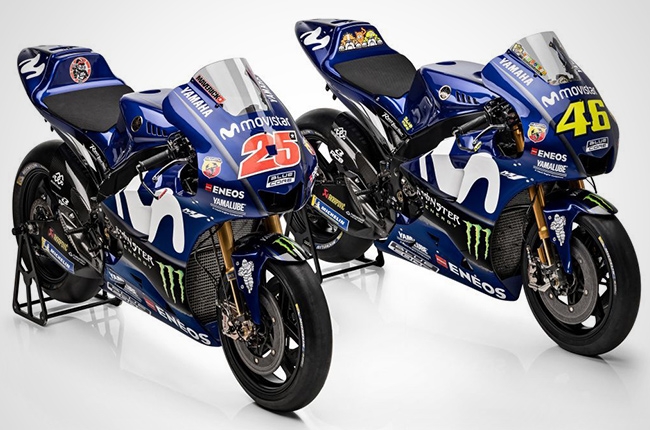 2018 will be Movistar's 5th year of partnership as a title sponsor with Yamaha in MotoGP.
---
Related Articles
The WR 155R is Yamaha's newest entry into the dual-sport category of motorcycles, and goes for P169,000.

Yamaha releases a video of its electric vehicle program showing off its motors that's available for both motorcycle and automobile applications.

Yamaha releases its 2021 motocross lineup with major updates on the engine and chassis for its YZF250F and brand new graphics.

Japanese publication Young Machine is hinting on a rumor that Yamaha is working on a new retro revival of their legendary FZ750 from the 80s.

Yamaha migrates its e-bike business from Japan to its headquarters in Amsterdam to improve operations and business relationships with bicycle manufacturers.
---
Latest News
BMW launches its 2021 R Nine T lineup with a redesigned Euro 5 compliant engine, updated instrument display, LED lighting, and a limited edition "40 Years GS" livery.

Husqvarna unveils its new TE 300i and FE 350 Rockstar Edition featuring racing graphics, livery, and performance components.

BMW introduces the new R18 Classic for 2021, bringing a touring-friendly and highly-customizable version of its big-boxer cruiser.