Adventure bikes have been growing in popularity for the past several years, and not just among the more mature riders. The idea of being able to take a bike out to conquer the road, and the road less traveled, always sounds enticing. KTM Philippines has made this idea more attainable, with a significant price drop for the popular 790 Adventure R, as it's now proudly Philippine-made. What was once P957,000 is now P749,000. Is the price drop enough to make people feel that orange is the new black?
I was privileged enough to be able to spend some quality time with the 790 Adventure R and tried it out in different conditions, and damn was I impressed. I took it through the twisties of Marilaque, the open road of NLEX and SCTEX, some city riding, and even some light trails with some ankle-deep water for a photo-op.
Style
First off, I want to say I am not a fan of the looks of any adventure bike. My taste in motorcycles has not graduated to that category just yet. I'm probably just in denial of my 'tito-hood.' I appreciate them for what they are, however its just not my cup of tea, but it seems that there is a huge chunk of people who love them. In fact, the 790 Adventure R is a complete head-turner, judging by the number of riders that gave me the thumbs up while on the road. It does have a commanding presence, it's easy to forget you are riding a middleweight bike.
Tech and Performance
The bike is fully loaded with tech, the 5 inch TFT screen with Bluetooth connectivity is pretty easy to navigate through and useful. I did manage to test out three of the four different riding modes, street, rain, and off-road, though, I didn't quite get to fully test the rally setting. These modes alter the throttle response, the power output, ABS, and what KTM calls "slip control." You can't adjust the suspension electronically, so you'll have to stop the bike to do that with normal clickers. The bike comes with 10 levels of lean-sensitive traction control, which does seem like a lot, but when you go off the beaten path, you'll understand why. The up and down quick shifter, which allows for clutch-less shifting, is an option you definitely should go for. Whether you are riding at speed on the expressway or attacking the twisties, that feature is such a joy to use.
The 790 Adventure R is powered by a 799 cc double overhead cam (DOHC) parallel twin that punches out 95 hp at 8000 rpm and 88nm of peak torque. It delivers enough power at low RPMs so you don't have to constantly bang up and down gears. Torque is very generous and the engine doesn't feel like it's taxed too much even if it is hauling a significant amount of weight.
The fully adjustable, top-spec WP suspension is really as good as advertised. You have full control of how soft or stiff you want your ride to be. It's 21" front and 18" rear tires allow you to get through pretty much anything. Handling on the pavement is also good and the bike is stable at high or low speeds.
The tank capacity of 20 liters is impressive, as is the 24 km/L, however, just be careful as the fuel gauge takes a little bit of getting used to. It doesn't indicate usage until you hit a half tank, due to its design. So just keep that in mind when you are going for a long, multiple-day ride. That saddlebag design of the tank is what gives the bike a low center of gravity, which helps you get through some tricky situations.
Size
With a wet weight of 189kg, the bike should be extremely manageable in all sorts of conditions, but there is one big problem. At 5'6, I'm the average height of a male Filipino, and the seat height of 850mm is almost too tall for me. As in one butt cheek off the saddle to reach the ground, tall. As in, I say a little prayer for the light to turn green so I don't have to stop at the traffic light tall. As in, once I have to stop on a light trail, I have to get off the bike and have my taller friend, help me out, tall. You get the picture. It's so tall, that I find it difficult to maneuver in heavy city traffic because I can barely reach the ground. KTM Philippines doesn't plan on changing the seat height once they roll off the plant in Laguna, you'll have to get a lowering kit, and if you're close to my height, I strongly suggest you do.
Verdict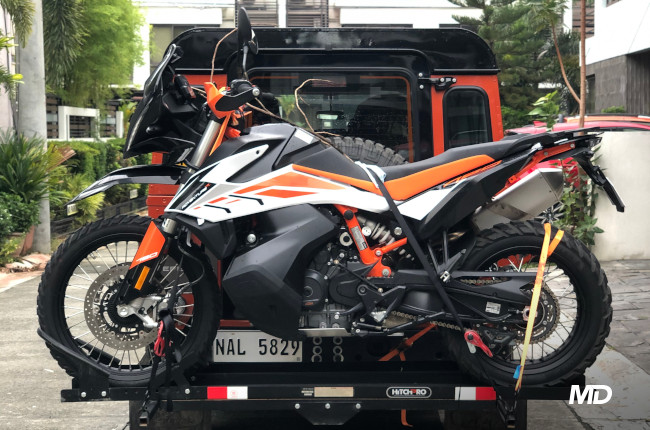 I was riding back to Manila from SCTEX, I fully enjoyed cruising down the expressway, appreciating the scenery, and the moment of zen. I didn't even mind the downpour that we got caught in, in fact, I had never felt so confident riding in the rain. As the sky cleared up, I got reminded of the very reason why I love riding and I thought to myself, "So tito Jinno, is it time to get on the adventure bandwagon?" I thought about all the positives of the bike and the experience. It checked so many of the "pro" boxes, value for money, performance, comfort, reliability, the bike Id like to use in case the zombie apocalypse comes. Just when I was going through the list, I saw the toll in Balintawak approaching along with the line of cars. The moment of zen started to vanish and a hint of stress started to creep in, as I started to look for a place I can put my toes on the ground. As I waited for my turn, I caught a reflection of myself in a car beside me, and I figured out the answer. "No", tito Jinno is not ready, but when that day comes, the KTM 790 Adventure R – with a lowering kit – might just be the current front-runner.
---
---
Related Articles
Which adventurer will you take on an adventure?

A head to head comparison between the Yamaha Ténéré 700 and Suzuki V-Strom 650.

The Royal Enfield Himalayan is a heavy hitter adventure bike in the entry-level segment.

We break down three of the most popular disciplines of motorcycling to help you decide which one best suits your lifestyle.

Make any adventure more enjoyable and enticing with these great accessories for your motorcycle.
---
Latest Features
Here are 5 reasons why Vespas are amazing scooters, and worth your hard earned money.

Riding a motorcycle has many health benefits that include a strong core, and better posture as well as calorie burn.

Here's a list of what to prepare before a weekend ride on your motorcycle.