/ Featured Article
Top 5 most exciting Kawasaki motorcycles in the Philippines
Exciting doesn't only mean fast, but it's pretty exciting to go fast, right?

on Aug 12, 2021
---
Whenever the topic of big bikes comes up in conversation, it's hard to ignore Kawasaki. The Japanese motorcycle manufacturer in the Philippines has doubled down on the leisure bike market here in the Philippines and is currently one of the most popular brands that consumers notice and gravitate towards when shopping for something exciting.
There is a problem, however. With tons of excitement in the lineup, which one or which ones are the most exciting? Here's our take on the bikes that are "most exciting." This is not going to be a "fastest" list, though there are some pretty fast bikes here.
Kawasaki Ninja 650 and Z650
Since these bikes are pretty similar, we're serving up a two-in-one entry as choosing one over the other will boil down to preference. Here we have the quintessential sport and naked offerings from Kawasaki, the Ninja 650, and the Z650. Both bikes come with the same 649cc parallel-twin engine with a 180-degree crankshaft. This engine configuration will give the bike a very predictable powerband with a majority of the power made up top.
While it doesn't seem quite as exciting, we're well aware that in the right hands, and because of the predictable powerband, these bikes can be a ton of fun and serve up heaps of excitement wherever you go.
Kawasaki ZX-25R
Stepping up in terms of excitement, we have the ZX-25R. Now, this is a bit of a questionable choice, but you know how the saying goes: It's more fun to ride a slow bike fast, than a fast bike slow. In the case of the ZX-25R, however, it's not that slow, and it sounds amazing. What we have here is a 249cc supersport bike that produces 50 horsepower and 22.9 Nm of torque. The engine revs as high as 15,000 RPM.
Kawasaki shows that it can engineer something really special even at such a low displacement. The ZX-25R is the brand's line of supersport bikes, and it was designed to be a racing machine. It won't be as fast as the other bikes on this list, but hearing that four-cylinder sing should bring you a level of excitement if anything.
Kawasaki ZX-6R
There is no replacement for displacement, yes? Right, so the ZX-6R is the middle-weight supersport of the Kawasaki family, and it's quite a riot. Team green developed a bike that can definitely corner and keep up with even some of the larger displacement offerings in other segments.
With four pistons punching out a total of 126 hp, it's got the grunt and it's got the kit to outpace bigger bikes on the track in the right hands. It's definitely exciting, but if you're absolutely mad or if there is no replacement for displacement, then look further.
Kawasaki Z1000R
The first literbike on the list is the venerable Z1000R from Kawasaki. It's a serious bike. Definitely not for the faint of heart or the beginner rider. Its 1,043cc inline-4 makes 140.8 hp made at 10,000 RPM. Kawasaki claims that the engine is tuned to make huge amounts of torque, and its stats show it at 111 Nm.
If the specifications aren't enough to convince you that this bike's exciting, and its reputation isn't enough to sway you, don't worry, the best is yet to come.
Kawasaki Ninja H2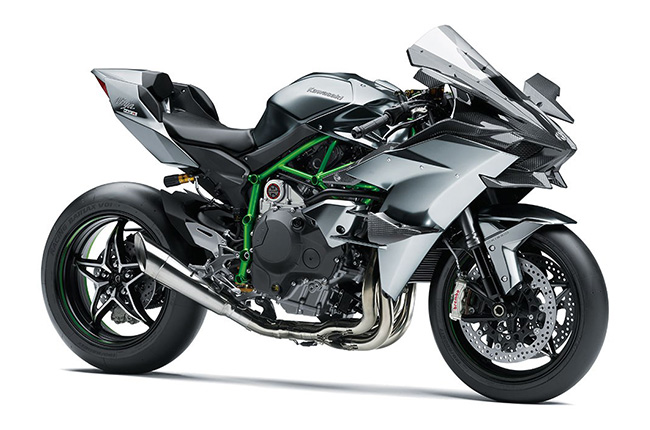 The fastest and craziest Kawasaki in the stable is none other than the Ninja H2. Every bike on this list is only naturally aspirated, but this one is supercharged. Its chassis is designed to handle its 133.4 Nm of torque, and its engine produces a total of 197 hp, which is way too much power for most people. Although, if you have a thirst for excitement, it can't get any better than this.
---
Related Articles
Here are some of our experiences with Japanese and European motorcycle ownership that are worth sharing.

Want to ride a big bike but don't want to break the bank? These 5 affordable models may be worth considering.

Floating discs or solid discs—which one is better and is it worth upgrading to aftermarket rotors?

Here are 5 Chinese-made motorcycles we're looking forward to seeing in the local market in 2023.

Here's our list of the top 10 lightweight big bikes worth considering in 2023.
---
Latest Features
Let's take a moment to discuss the dangers of overloading your motorcycle, and the safety and mechanical issues that may arise due to this.

Here are some of our experiences with Japanese and European motorcycle ownership that are worth sharing.

KTM has teamed up with RIDE ACADEMi to offer advanced street-riding skills to everyday riders.