In this long period of lockdown, group rides and leisurely travel has, unfortunately, been put to a halt. Now, while this may seem rather grim, there are things we can do to make the most of the downtime. Working on your motorcycle not only ensures that your bike remians in tip-top shape, it also teaches you a few basic skills needed in order to maintain your motorcycle. Now, we've written lots of articles covering the basics of DIY motorcycle maintenance. This time, we're going to show you a few essential motorcycle tools and equipment you need in order to do basic motorcycle-related DIY tasks.
Allen keys
Regardless of where your motorcycle is made, chances are most of its vital components are secured via allen bolts. That said, having a high quality set of allen keys is absolutely essential for both basic and advanced motorcycle repair and maintenance jobs. Everything from installing a mobile phone mount to servicing your valves will require the use of varying sizes of allen keys.
Now, most motorcycles make use of metric bolts. However, there are still a few manufacturers that make use of imperial bolts, and require a completely different set of tools. That said, a decent set of allen keys—both imperial and metric—can be purchased online, or at your nearest hardware store.
Wrenches and spanners
Just like allen keys, hex bolts abound on most motorcycles. More commonly used on bigger parts like the wheels, suspension mounts, and frame, having good quality and properly sized wrenches and spanners is essential in ensuring that you don't run into any unexpected roadblocks when it comes to servicing your motorcycle.
Wrenches and spanners come in a variety of shapes and sizes. Just like most other tools, imperial and metric options are available. That said, be sure to consult your owner's manual to double check the type of bolts your motorcycle is using. It also helps to have a torque wrench, especially for the more sensitive parts of your bike such as engine and suspension components, as well as the brakes.
Tire pressure gauge and pump
The other day, we wrote a step-by-step guide on how to check and correct your motorcycle's tire pressure. As stated, it is very important to ensure that your motorcycle is running the correct tire pressure as it provides maximum traction from the tires, thus maximizing your safety. Now, tire pressures vary depending on the motorcycle, as well as your intended use, however, most motorcycles will have their optimum tire pressures pegged somewhere in the 30-PSI range.
In order to check your tire pressure, you need a decent tire pressure gauge, and of course, a pump to add air to your tires. You could get away with a simple bicycle pump, but just be ready to get a little workout in the process. Alternatively, electric tire pumps, or even full-on shop compressors can be purchased at your local hardware store.
Paddock stand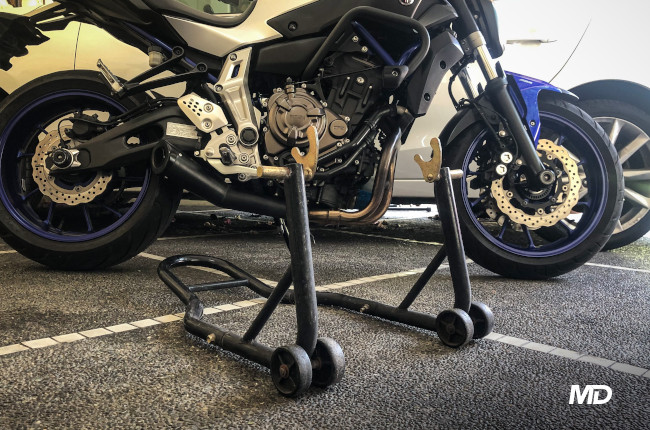 A paddock stand is a very useful tool, especially when it comes to topping up fluids, adjusting your chain, and working on your rear wheel. This contraption lifts the bike's rear wheel off the ground, thereby allowing it to free-wheel. This way, cleaning your chain, adjusting chain slack, and even servicing your rear brakes becomes a lot easier.
A paddock stand also stands your bike upright, providing more accurate readings when it comes to your fluid levels. Most motorcycles come with either a dipstick or a sightglass for the oil level, and the owner's manual usually states that the bike must be upright when checking your fluid levels. A paddock stand eliminates the need for another set of hands, and makes it easier for you to do simple DIY jobs, even when on your own.
Oil and lubricants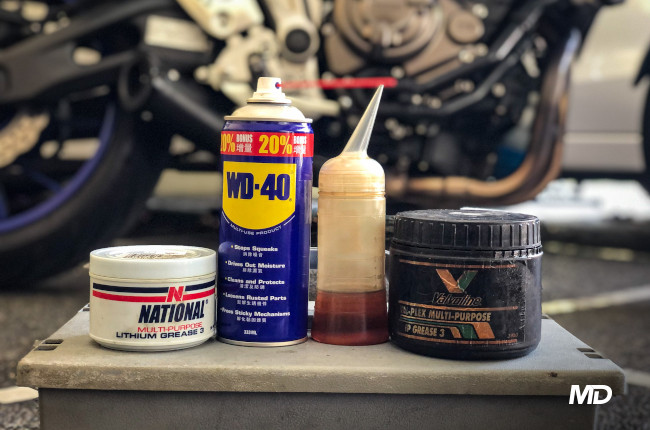 Lastly, oil and lubricants serve as the lifeblood of your motorcycle. It's important to have a supply of fresh motor oil for topping-up. Other lubricants such as grease, 3-in-1 oil sprays, and chain lubes are useful in keeping all your bike's vital components in check, as well. If you're one who's very meticulous about your bike's fit and finish, you can even purchase a variety of paint protectants and waxes, to ensure your bike retains its lustrous paint finish for many years to com
---
Related Articles
Follow these tips and tricks when getting ready for a long-distance ride on your motorcycle.

Struggling to think of gift ideas for your motorcyclist friends and family? Read on to get some inspiration this gift-giving season.

Here are three things you must do before pulling the trigger on a new big bike.

Here's a list of 6 must-check maintenance items on a used motorcycle, especially if it's a bit higher in terms of mileage.

Find out how you can help prepare yourself for a variety of emergencies on the road.
---
Latest Features
Want a bike that's super fast and looks really dapper doing so? Look no further than the Speed Triple RR from Triumph.

Follow these tips and tricks when getting ready for a long-distance ride on your motorcycle.

Struggling to think of gift ideas for your motorcyclist friends and family? Read on to get some inspiration this gift-giving season.