/ Tips & Advice
Motorcycle Gear Shops in the Philippines—A Buyer's Guide
Here are some of our recommendations for where you can buy motorcycle gear in the Metro.

on Apr 29, 2022
---
Motorcycle gear is a must if you really want to get into the hobby. There is no shortage of suppliers and dealers for bikes, but what about the all-important helmet, jacket, gloves, pants, and boots? While you can get away with everyday clothes while on a motorcycle (so long as you have a helmet and closed shoes), a more serious dive into riding will require more serious pieces of gear. As such, here are our top picks and recommended shops that you go to.
Whether it's Jinno, myself, or other members of the MotoDeal team, all of us tend to frequent these shops since they're popular, owned by friends, or simply because they have great stuff. Period. As such, here are our top picks for the best gear shops that are based in the Philippines.
Editor's Note: The shops are listed alphabetically and are primarily based in Metro Manila, but the distributors and notable brands may also be found in other regions throughout the Philippines, either that or you may access the products through any of these companies' online stores.
We will also update this list as time goes on and as we get to visit more shops and get to know their stories.
Biker Box Inc.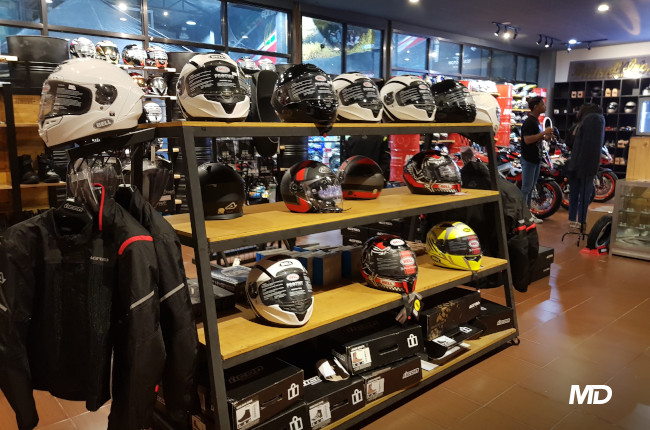 Biker Box is not just a dealer for motorcycle gear, it also has a bunch of motorcycle brands under its wing, namely Moto Guzzi, Vespa, and Aprilia. Walking in, you will be greeted by an entrance that is or can be littered with big bikes and posh scooters that are either owned or activated as test units. Once you leg your way into the showroom, you're greeted by warm tones and a ton of helmets, riding jackets, pants, and all types of accessories for you to choose from.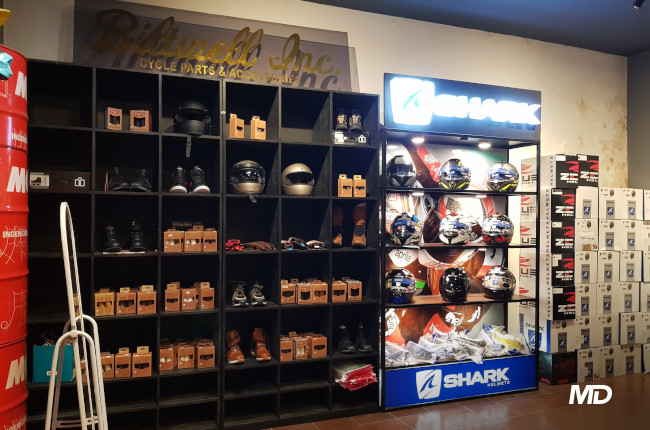 The company carries brands such as Shark Helmets, Icon, Acerbis, Ruby Helmets, Bering, and Biltwell among others. Biker Box's selection of brands is more niche compared to the others, but that allows you to walk away with a unique piece of gear that is still internationally acclaimed and recognized. If you want something different and with a bit of attitude when you pull up at your next ride, Biker Box has got you covered.
You can check them out at Lot 8-B Doña Irenea St. Ireneville 1, BF Homes, Sucat, Parañaque City.
Brixton Bespoke Bikes
There are gear shops and then there's Brixton Bespoke Bikes. The company describes itself as "Curators and providers of fine custom and brand-new motorcycle gear and apparel," which is a way of saying we only carry the best stuff. Best is relative, however, but in terms of quality and craftsmanship, you'd be hard-pressed to find things that are finer.
Brixton's selection of gear can get quite expensive, especially the helmets from Hedon and Alexander Guang. Fuel is also part of Brixton's collection, as are BSMC, Saint, and Vanson Leathers. The peg is luxury classic gear whenever you shop at Brixton, but the prices are also indicative of the craftsmanship that goes into the goods that they sell. Think about it this way, bespoke is not a word that is taken lightly and for granted by the owners of this shop. The helmets alone are hand-crafted and cost a fortune to own, but the quality shows and it's highly unlikely that you will find another guy riding with the same helmet unless the only people you ride with are clients from Brixton Bespoke Bikes. The apparel is also equally as luxurious with the best materials and handiwork to go with the price you pay. It's no wonder Brixton is a constant at the Distinguished Gentleman's Ride, as it is perhaps the best shop to go to if you're looking for an outfit for the event and beyond.
As the destination for unique luxury motorcycle riding gear, you may visit Brixton Bespoke Bikes at 11 Brixton St. Kapitolyo, Pasig City.
Ride Manila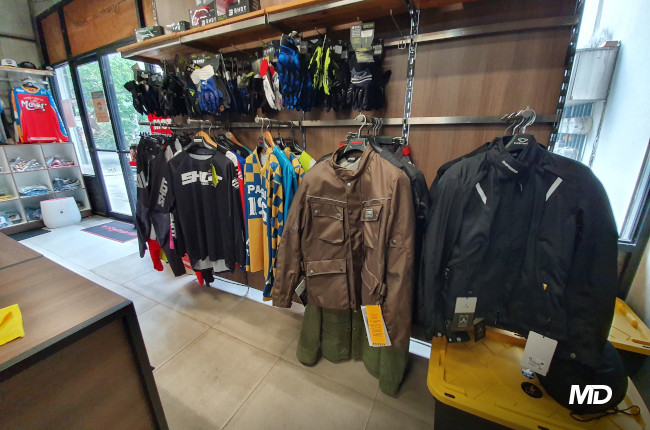 One of the OG gear shops in the metro, Ride Manila's one such brand that's been serving high-quality riding gear ever since its inception. There is a wide range of gear here, and it's quite common for some riders to go in bare and come out fully-kitted complete with helmets, jackets, gloves, comms systems, and even luggage for their next ride. The selection in Ride Manila is assuredly premium with a slight skew towards adventure riding gear and a bit towards classic riders.
There is no escaping the price tags of some of these items, but they're a notch above quite a few brands in the market. For helmets, take a look at Nexx, a Portuguese brand that is not as known as other brands but is pound-for-pound as good if not better than the others in a few regards. Ride Manila also carries a wealth of jackets and pants from brands like Spidi and John Doe, to name a few. For apparel and armor, Ride Manila also carries Force Field Body Armor, a brand that can improve your current gear or provide you with a new piece altogether. If you want some of the best motorcycle-specific bags in the industry, Kriega's a best-seller among big bike riders thanks to its lasting quality and smart design. If you want boots, Ride Manila carries Stylmartin which has a selection of casual and retro styles. Lastly, Ride Manila is also one of the only places that we recommend you go for Cardo Systems' Packtalk Bold and the new Packtalk Edge Comms devices. On top of this, Ride Manila is also a supplier of Quad Lock mounts to compliment your comms set up on your bike.
You can visit Ride Manila at its main branch at 7610 Guijo St. San Antonio, Makati, Philippines. Or if you live in the south, Ride Manila also has a branch at Unit A-204.2 Westgate Center, Filinvest, Muntinlupa.
Siklo Supplies Co.
A relative newcomer to the gear industry, Siklo's a premium gear shop that carries a wealth of options for riders with a more retro taste in motorcycling. Even if they're on the more premium side of things for gear, they're not luxuriously expensive.
There are quality pieces to be had in Siklo, and they carry some stylish brands like Helstons, DMD, NACA, Pando Moto, El Solitario, Umberto Luce, ROAV Eyewear, Knox, Kriega, and they're even a dealer for Cardo Systems. There is also more that you can find at Siklo like Fantic motorcycles, so it's gear and interesting bikes rolled into one shop.
Siklo Supplies Co. is located at 79-B Katipunan Avenue, Bellitudo Strip, While Plains, Quezon City Philippines.
Triumph JT Marketing Corporation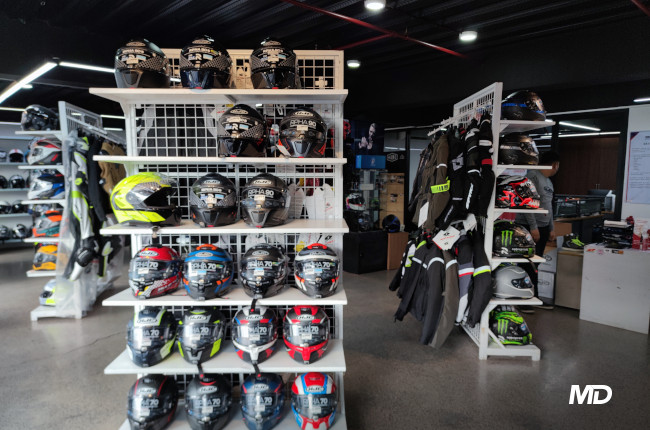 One of our favorite shops to visit thanks to its huge selection of helmets, and welcoming atmosphere, Triumph JT is the official distributor of the vastly successful HJC Helmets, Cortech, Shad, Augi, and Spyke to name a few. The company first started selling HJC helmets back in the early 2000s, first starting off by importing helmets from Korea prior to being awarded the distributorship a few years later. The company is also a dealer for Honda motorcycles and big bikes.
The HJC brand needs no introduction in the Philippine market. Whether you're a big bike rider or an everyday commuter, there is a model just for you at every price point. Other gear such as jackets, gloves, and pants can be purchased from Triumph JT Marketing Corporation as well which includes brands like Spyke. Augi is a brand that has its headquarters in Australia and a manufacturer in Taiwan that specializes in motorcycle footwear, from race boots to your everyday casual riding sneakers, and if you want a new bike, Triumph JT can sell you a Honda motorcycle as well!
Triumph JT Marketing Corporation's main office and showroom are located at 311 Rizal Avenue Extension, Between 8th and 9th Avenue, Grace Park, Caloocan City. It's also interesting to note that the company's flagship Honda Big Bike showroom is located just around the corner facing the main road, and even the dealership has its own showcase of Triumph JT Marketing products on the showroom floor. Triumph JT is also everywhere, not in terms of location, but in the number of dealer partners they have that will be quick to sell you an HJC lid and more.
---
Related Articles
Is it safe to ride your motorcycle with a normal jacket? Of course not. Read on to learn why you should always wear a motorcycle-specific jacket.

Is a riding jacket an essential piece of riding gear, or can you get away with just any old jacket in your closet?

There are a variety of different types of riding gloves suited for all sorts of applications. Let's take a closer look at some of the most popular types out there.

Riding your motorcycle without a jacket, and just with a t-shirt, is a recipe for a bad time. Here's why.

Here's an easy step-by-step guide on how to disinfect your motorcycle helmet after every ride.
---
Latest Features
Your motorcycle's brakes are among the most vital systems on your bike. Here are a few tips on how to keep them in good shape, as well as how to get the most longevity out of them.

Every pro is matched with a few cons, here are 5 pros and cons related to the R 1250 GS.

Here are a few reasons why the Royal Enfield Continenta GT 650 is the best beginner-friendly cafe-racer in the market.