Ever looked at your motorcycle and thought it would be nice for it to look showroom fresh once again? While there truly is no substitute for a professional detailing job, a home detailing job, with enough effort and attention to detail, can elevate the aesthetic condition of your motorcycle quite substantially—looking nearly new. If you have a bit of time to spare, you may want to consider giving your motorcycle a little bit of tender loving care through a quick home detailing job which can be easily done in 4 easy steps.
1. Wash the motorcycle
The first step and arguably the most important step of the process would be to give your motorcycle a thorough wash. For this, you will only need water from a hose, car shampoo, two buckets, a microfiber towel for washing, and a chamois towel for drying. For washing your motorcycle, it would be best to avoid high pressure hoses as the high pressure stream of water may end up destroying exposed electrical connectors, old paint, fender decals, and more. A simple garden hose with enough water pressure will be more than enough.
Start off by rinsing your motorcycle down and get every exterior part wet. Afterwards, mix a bit of car shampoo and water in one bucket and fill up another bucket with water. Start cleaning your motorcycle with soapy water and your microfiber towel. Get every nook and cranny as clean as possible. When your towel gets dirty, clean it off in the clean water bucket and not the soapy water bucket in order to keep your soapy water bucket free from old dirt. Make sure to spend as much time on this part as needed since it is fundamental for the success of the next few steps. After your wash, dry your motorcycle thoroughly with a chamois towel.
2. Deep clean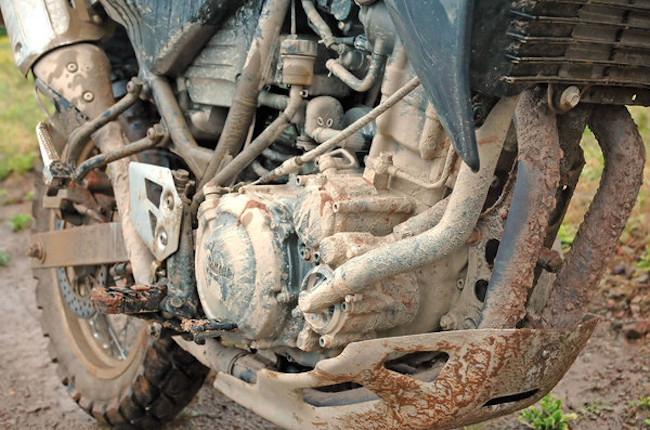 If your motorcycle has racked up many thousands of kilometers on the odometer or has simply seen better days, you may want to consider a deep clean as an additional step in the wash process. Deep cleaning focuses on parts of the motorcycle which are not often washed thoroughly during your normal bike wash routines, or parts that are prone to dirt and road debris that stain. These parts are often the lower fork legs, the brake calipers, the rear swing arm, front fenders and rear tire huggers, underside of the engine, and all the nooks and crannies and creases on your various body parts.
If you want to complete the detailing job with much finesse, we've covered a few key points on frame and suspension deep cleaning in another article, but always remember to use quality products and take your sweet time to focus on a quality clean for your precious two-wheeler. After your deep cleaning job, give your motorcycle another quick rinse and dry for the parts you focused on deep cleaning.
3. Protect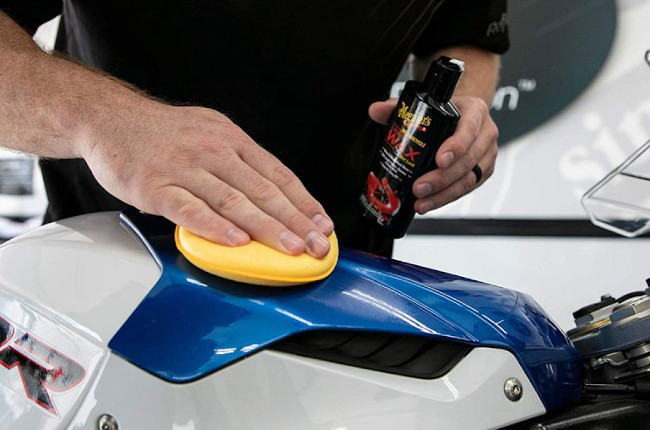 After the various washing, cleaning, and drying tasks, the final touch to your home detailing job would be the protective finish. When waxing complicated surfaces like your wheels, spokes, swing arm, other small components, spray wax would be the most advisable product to use – but often wears out quickly and will need re-application on your next wash. On the flip side, relatively flat and large surfaces like big fairings or an exposed gas tank can benefit from a more traditional wax and buffing job that can be done by hand—waxing, and buffing will provide protection that will last longer despite the added effort.
Whichever method you choose to use for your motorcycle, it's important to make sure that you follow the instructions for the specific product you're using. Also, make sure to avoid waxing and spraying parts of the motorcycle which either will get heated or have protective gaskets or o-rings. Examples of the former would be your engine and exhaust, and examples of the latter include your fork legs and your rear shock absorbers. After you've finished your protection job, your motorcycle should be clean and looking showroom fresh on your next ride out.
---
Related Articles
Whether or not you can use car-specific engine oil on a motorcycle is a question that's frequently thrown around. Read on to learn the answer.

How can your headlight see with a dirty lens?

Cleaning a modern motorcycle exhaust requires the right equipment and a bit of patience.

Stand up, stand the bike up, and ride on if you can.

Paint that isn't nice to look at doesn't always need a repaint. Here's how you can go about motorcycle repaint jobs.
---
Latest Features
Let's take a closer look at two of Japan's biggest, heavy weight adventure bikes currently available in the market.

Whether or not you can use car-specific engine oil on a motorcycle is a question that's frequently thrown around. Read on to learn the answer.

So you want to go big right away?