/ Featured Article
Here are 10 lightweight big bikes worth considering in 2023
Looking to go up the displacement while keeping weight down low? Check these bikes out.

on Jan 15, 2023
---
Getting into big bikes is one of the most exciting things you could ever do. Truly, those of us who ride big bikes—be it regularly, or on occasion—would unanimously agree that it's probably the closest we can get to flying. This is especially true if your weapon of choice is a lightweight streetfighter, such as the bikes on our list. We're firm believers that naked bikes are among the most versatile big bikes in the market. It's even better if your weapon of choice is a lightweight machine.
Now, depending on your skill level, the term "lightweight" could very well be subjective. For today's list, we'll categorize big bikes with wet weights in the high 300's and low 400 pounds as lightweight. Having said that, and without further ado, here are our top 10 picks for lightweight big bikes which you can buy brand new in 2023.
KTM 390 Duke
The KTM 390 Duke is still by far one of the best bang-for-buck lightweight big bikes in the market. A good number of us in the MotoDeal.com.ph team have had this bike in our collections, and we can all firmly attest that it's an extremely rewarding machine. KTM has updated the bike with mild tweaks and graphical improvements for the 2023 model year, and we're eager to see this bike on the road very soon. For reference, it tips the scales at an impressive 379 pounds, or around 172 kilograms, with a full tank of gas.
Kawasaki Z400
Weighing in at 364 pounds (approximately 165 kilograms), the Kawasaki Z400 is loved by many thanks to its sporty styling, bulletproof reliability, and confidence-inspiring performance. Indeed, for first time big bikers, it's hard to go wrong with the Z400, as it's from one of the most reputable manufacturers in the market. Although Kawasaki hasn't updated the bike that much since its initial release a couple of years ago, you could argue that the bike is already good the way it is, especially considering its super attractive price tag of P279,000.
Suzuki SV650
Now may be your last chance to get the iconic Suzuki SV650 brand new off the dealership, as Suzuki has just announced its successor, the GSX-8S. Indeed, the SV650's reign of supremacy may well be over, but it continues to be an impressive player in the middleweight big bike segment, with its rather lightweight 437-pound (198-kilogram) build, and affordable P399,000 price tag.
Husqvarna Svartpilen and Vitpilen 401
Sharing the same DNA as the first bike on our list, the Husqvarna 401 bikes—the Svartpilen and Vitpilen—are excellent choices for those looking for a lightweight machine, but one infused with neo-retro styling. Tipping the scales at 350 pounds (159 kilograms), the Husky 401 model range is the perfect combination of rowdy, refined, and stylish.
Yamaha MT-07
The next bike on our list is incredibly popular thanks to its distinctive CP2 parallel-twin engine. Indeed, the crossplane crankshaft is one of the Yamaha MT-07's defining features, however, it's also an incredibly lightweight machine, tipping the scales at just 406 pounds (184 kilograms) with a full tank of gas. This makes it the lightest bike in the entire 650 segment by a substantial margin. Indeed the same is true for its neo-retro sibling, the XSR700, which weighs in at just 410 pounds (186 kilos)—a tad heavier due to the retro-styled design cues.
Yamaha MT-09
Unsurprisingly, we have another Yamaha in our list, but this time, we bump up the power by quite a huge margin. With 111 horsepower on tap, the MT-09 has 50 percent more power than the MT-07, while weighing just 11 pounds more. At 417 pounds (189 kilograms), the MT-09 is the perfect recipe for a rowdy ride with endless wheelie-popping potential, and an amazing three-cylinder soundtrack to boot.
KTM 790 Duke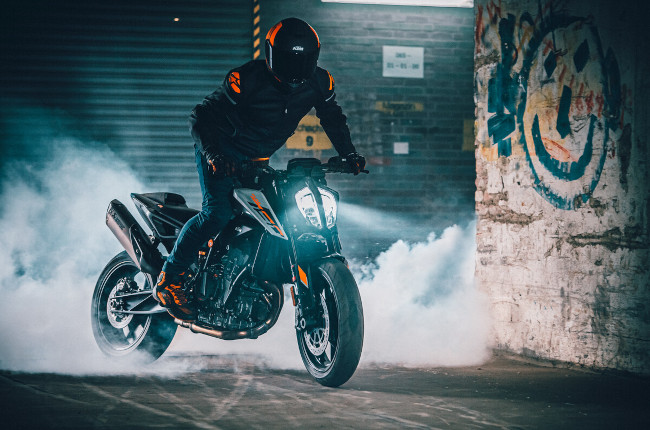 KTM's 790 Duke, aptly named the Scalpel, is the next entry on our list, and while it's down on power when compared to the MT-09, it tips the scales at an identical 417 pounds (189 kilograms). It also has a wide array of electronics to its disposal, as well as KTM's tried and tested LC8C parallel-twin engine.
Triumph Street Triple RS
Triumph's middleweight streetfighter, the Street Triple RS, is often regarded as the sharpest and sportiest naked bike in the market. Derived directly from Triumph's Daytona sportbike, the Street Triple not only inherits a powerful 765cc inline triple, but also a lightweight construction allowing it to tip the scales at just 420 pounds (190 kilos) ready to ride. The 2023 model's updates are particularly impressive, and we can't wait to see the updated model in the metal soon.
Ducati Monster
At 414 pounds (187 kilograms), Ducati meant it when it said that the new Monster was the lightest, sharpest Monster ever made. Getting rid of the iconic trellis frame meant weight savings for Ducati's naked bike, and a cutting-edge tech package makes the ride even better than ever before. You'll have to forgive the bike's premium P980,000 price tag, though.
CFMOTO 450 SR
Last but not least, we have CFMOTO's newest sportbike, the 450SR. CFMOTO has truly reinvented itself in recent years, with its image of budget-focused, low-tech bikes long gone. Now, models like the 450SR flaunt sophisticated technology, a unique 270-degree parallel-twin, and an impressive 371-pound (168-kilogram) construction.
---
Related Articles
Here are 5 things to consider when time comes for you to replace the tires on your motorcycle.

Here are 4 reasons why an airbag vest could very well be a worthy investment.

It's agreed upon by many that the Ducati Streetfighter V4 S is the ultimate naked bike. Let's take a look at 5 reasons why.

Let's take a closer look at two popular European scramblers, the Ducati Scrambler 1100 and the Triumph Scrambler 1200 XC.

With the release of the 2023 Triumph Street Triple RS, the British manufacturer has raised the bar in the middleweight segment.
---
Latest Features
With summer well and truly here, it's time to consider what's best to wear when out on summer rides.

Shark's Spartan RS is an entry-level sport-touring motorcycle helmet that's far from entry-level.

Here are a few things you can do to address leaking fork seals. Just make sure never to ignore this potentially dangerous scenario.