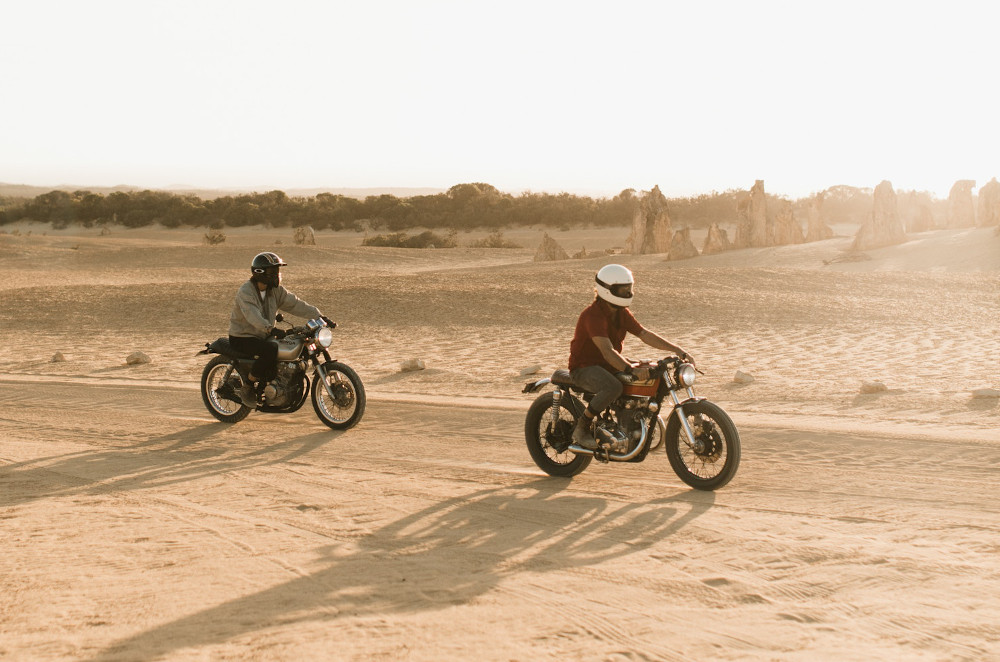 Riding through the scalding heat of the sun while trying to keep yourself protected can be a very tough balance to strike. Keeping cool often means using as few layers as possible and keeping as ventilated as possible. However, using protective armor often requires you to add more layers and not less. As straightforward as it may seem, gearing up for protection can often mean a hotter ride—and this can be troublesome during summer or just sunny days in general. That being said, properly gearing up for hot weather is not a total impossibility. It boils down to making purposeful and careful choices when selecting gear in order to maximize airflow. If you're looking to upgrade your gear selection at home, take a look at some of the best gear choices for hot weather riding.
Dri-fit clothes
To keep things simple, dri-fit clothes are designed to take your sweat to the surface of your clothes so that they may evaporate as quickly as possible. This does two things for the rider. First, it keeps you feeling comfortable by keeping your skin dry. Second, it keeps you feeling cool through evaporation of your sweat. Dri-fit clothes are generally a very good choice for wearing under riding jackets, or even if simply used as your main shirt for going around town. If you're going for the latter, just be sure to find a long sleeve shirt in order to protect your skin from the harsh UV rays of the sun during hot weather riding.
Dual-sport or adventure helmet
When going for motorcycle-specific gear for hot weather, dual-sport or adventure helmets should be a great option if you're trying to maximize ventilation. These helmets are often designed for riders who venture off-road—where the average speed is often less than 20 km/h and a high amount of ventilation is needed due to the strenuous activity of off-road riding. As such, dual-sport and adventure helmets are designed to provide a large amount of ventilation even at low speeds without compromising the protection provided by a chin bar. On top of this—literally, dual-sport and adventure helmets come with a peak that can double as a sunshade during sunny rides.
Mesh gear
The next great choice for hot weather riding would be to use mesh gear for your jacket, pants, and gloves. The mesh fabric found on these gear items allows for air to flow into the garment in order to cool and dry the rider's body underneath. More mesh fabric means more ventilation for the rider—so it may be a good decision to pay attention to the mesh design of the gear item you're looking at. Just keep in mind that mesh gear works best once the motorcycle is moving where the rider can benefit from a decent amount of airflow. Make sure to inspect and fit the item before purchasing in order to ensure that the specific mesh item fits you best and suits your protective gear needs for hot weather riding. When shopping for jackets, many manufacturers will often tag them under summer gear in other countries, but mesh riding jackets are often a staple in most Philippine motorcycle gear shops.
Arm and leg pads
If mesh gear won't cut it for you, one of the next best options would be to simply get pads that you can strap onto your arms and knees—specifically for your elbows, shoulders, and knees which are body parts most prone to injury during a fall. While pads certainly provide more ventilation than mesh gear, keep in mind that your pads will need to be strapped onto your limbs securely in order to prevent them from shifting aside during a fall. So long as you purchase pads that carry a good safety rating and come with straps or buckles that securely wrap your arms and legs, you should be safe for your next ride out.
Riding or hiking backpack
If wearing a backpack is part of your daily commute on two wheels, or if a backpack would be absolutely necessary for your long trip out of town, your two best options would be a riding or hiking backpack. Both of these packs are designed to have superior back ventilation when compared to your average pack which makes this a perfect choice for hot weather riding. On top of this, both of these packs are designed to be very ergonomic and often come with a chest buckle to distribute the weight of the backpack from your shoulders to your back and chest. If you had to pick between the two, it would be a great choice to invest in a riding backpack since these packs are purposefully designed for motorcycle riders. However, hiking backpacks come very close due to the superb ergonomics and ventilation, minus a few riding creature comforts.
---
Related Articles
Find out which of the two helmet visor styles might make more sense for you.

There are a multitude of options when it comes to riding jackets. Let's take a closer look at some of the most popular types.

Fog doesn't always have to kill an enjoyable ride out.

Learn a thing or two about making your next DIY session a bit easier and a bit more fun.

Motorcycle helmets are generally durable, but they don't last forever and need to be replaced after some time.
---
Latest Features
Let's take a look at Harley-Davidson's newest adventure bike, the Pan America, and pit it against the legendary BMW R 1250 GS.

Here are a few tips to help you take better Instagram photos of your motorcycle.

Here, take this traction control system if you value keeping two wheels planted on the ground.