Neo-retro, retro-modern, modern-classic. Call it what you want, but there's no denying that what started out as a design exercise in making new bikes look old has turned into an entirely new subcategory of bikes in today's motorcycle industry. As it would turn out, people all across the world absolutely love the vintage aesthetic brought about by the dawn of the retro-modern motorcycle craze. With nearly all major motorcycle manufacturers featuring at least one retro-styled machine in their roster, there's no doubt that this craze is more than just a fad.
In fact, several modern-day motorcycle manufacturers dedicate their existence solely to the development and production of new bikes that look old. Think Royal Enfield, Moto Guzzi, and even boutique brands like Moto Morini. However, what we're here to talk about today is one of the most iconic modern-day neo-retro bikes in the market, none other than the legendary BMW R nineT. Out of all the classic-styled bikes in the market today, very few have achieved the level of success that BMW has done with the R nineT. Loved the world over, this bike has a particularly strong following among enthusiasts in the Philippines. Let's take a closer look at what makes this bike so special.
The looks
One glance at any of the three iterations of the BMW R nineT instantly tells you that this bike means business. The most barebones of the R nineT family, the Pure, exudes elegance and sophistication, while remaining simple enough to provide a raw and exhilarating experience. The R nineT Scrambler, on the other hand, boasts a slightly burlier appearance thanks to its high-mounted exhaust pipes, and slightly longer travel suspension. Rounding it all off is the flagship R nineT, which boasts stunning gold anodized inverted forks, wire-spoke wheels, and a two-tone colorway.
Stylistically speaking, you can't go wrong with any of the iterations of the BMW R nineT. It all boils down to the type of riding you intend to do, as well as the overall aesthetic you're going for. Across all its variants, the BMW R nineT boasts iconic, unmistakable styling cues such as a large round headlight, muscular fuel tank, and top-notch fit and finish.
The sound
For most, if not all motorcycle enthusiasts, style and aesthetics are only a part of the equation. A huge factor to consider when it comes to big bikes is indeed the sound. Now, multiple engine configurations result in various exhaust notes, as such some people are able to tell what type of motorcycle has passed by, just by listening to the exhaust note. That said, the BMW R nineT, even with the stock exhaust system, makes one of the most distinct engine sounds thanks to its horizontally opposed twin-cylinder engine, colloquially referred to as the boxer engine.
More specifically, the BMW R nineT comes equipped with a 1,170cc air-cooled, horizontally opposed four-stroke engine. Equipped with two camshafts and four radially aligned valves per cylinder, it makes a smooth hum at low RPMS which gradually morphs into an aggressive growl, as the revs climb. To make things even better, multiple aftermarket exhaust systems from reputable name brands are available for all BMW R nineT models.
The power
Speaking of the engine, the BMW R nineT's 1,170cc engine makes quite a lot of power. A total of 110 horsepower can be unleashed from this beast of a mill, giving the bike quite an impressive top speed. To make things even better, all this power is smoothly transferred to the back wheel via a driveshaft, which is significantly smoother and more refined than that of a conventional chain-drive system.
The BMW R nineT boasts incredibly linear power delivery thanks to the sophisticated electronics stuffed into the engine. It boasts electronic intake pipe injection, digital engine management with BMW's overrun cut-off technology, and twin-spark ignition to ensure a strong and efficient burn.
The versatility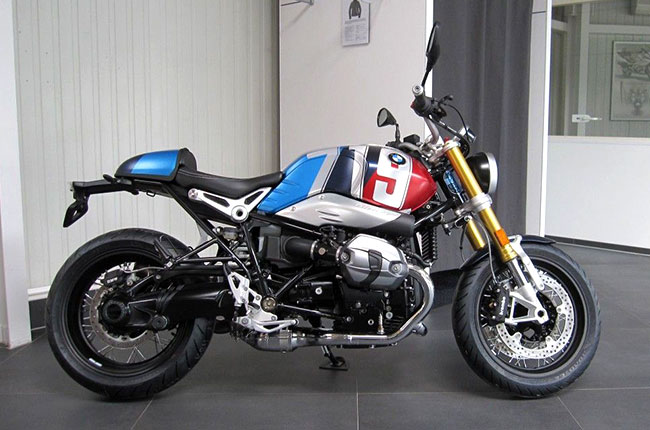 As is the case with many classic-styled bikes in the market, the BMW R nineT is a favorite among custom bike builders. Used as a blank canvass to unleash their creative potential, custom BMW R nineTs come in all shapes and sizes, and varying degrees of customization. In fact, BMW Motorrad offers a slew of in-house options for customizing the R nineT to your individual tastes. Dubbed the Option 719, it offers a wide range of accessories, color options, and design enhancements to further elevate the look and feel of the bike.
Apart from all the in-house aftermarket support, multiple popular name brands also produce extensive catalogues of accessories for the BMW R nineT. You could literally spend hours browsing all the different exhaust systems, crash guards, cylinder head covers, and other accessories designed specifically for the R nineT.
Now it's unsurprising that a bike that is the perfect blend of style, performance, and versatility would come at quite a premium. The most basic R nineT, the Pure, starts at P995,000. As we move up the ladder, the R nineT Scrambler comes with a sticker price of P1,085,000. Lastly, the range-topping R nineT will set you back at least P1,255,000. Do note, however, that this price can go well beyond the P1.5 million mark, depending on the aftermarket options you choose.
---
---
Related Articles
If you're looking for one of the ultimate best baked bikes out there, you need not look any further than the BMW S 1000 R.

Today's match involves a head-to-head comparison between the KTM 790 Duke and BMW F 900 R.

If you're looking for the ultimate sportbike, you need not look further than the BMW S 1000 RR. Here are a couple of reasons why.

German engineering versus bulletproof Japanese reliability, technology versus rugged simplicity, it's the BMW F 850 GS versus the Yamaha Ténéré 700.

Every pro is matched with a few cons, here are 5 pros and cons related to the R 1250 GS.
---
Latest Features
Husqvarna has debuted its 2024 model range in the global market, consisting of updates to the TE and FE enduro models.

Both the KTM 790 Duke and Triumph Street Triple RS are extremely popular middleweight naked bikes. Let's take a closer look at the two of these bikes in this comparo.

To waterproof or not to waterproof—that is the question. Read on to see if investing in waterproof riding gear is worth it?