/ Featured Article
2019 Moto Guzzi V85TT - First ride impressions
We take a ride around Phuket, Thailand to sample Moto Guzzi's latest motorcycle.
---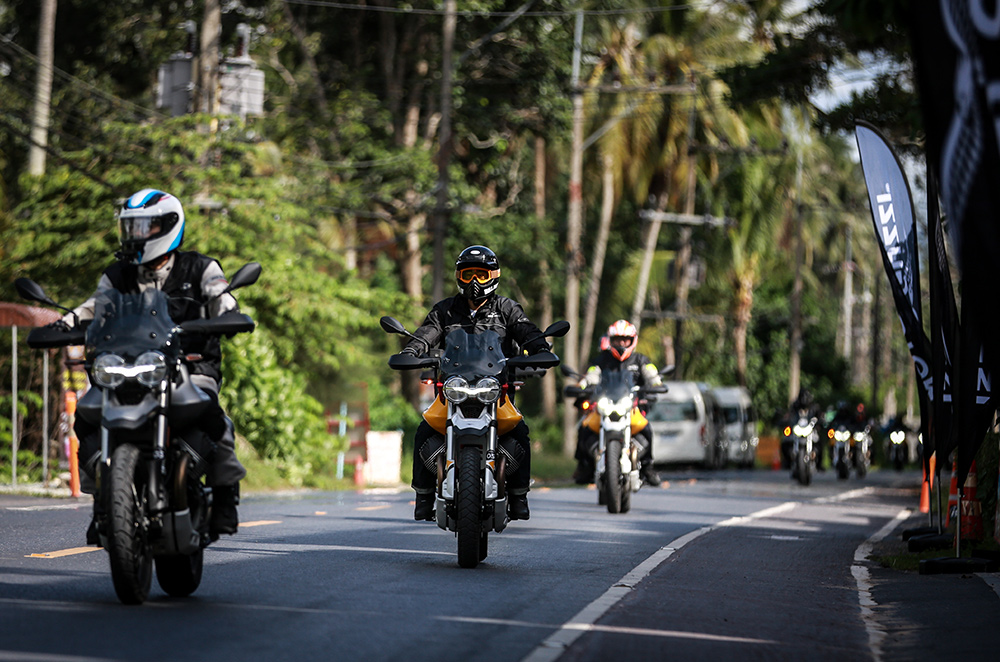 Moto Guzzi has always been a sort of niche brand in the motorcycling world, sticking to their guns and, in doing so, have won the hearts and love of motorcyclists that appreciate a manufacturer that's passionately Italian in every way. Those who decide to own a Moto Guzzi are treated to a unique transverse V-twin engine that overflows with character, a shaft drive and dry clutch setup, plus extremely precise attention to detail (even the wiring for the electricals are neatly hidden). Moto Guzzi is one of those rare brands that never loses their identity, always mindful of where they've been and how far they've gone, but also appreciating that modern technology can help create a wonderful riding experience.
It's that idea that spawned one of the most eagerly anticipated motorcycles of the year, the 2019 Moto Guzzi V85TT. The middleweight adventure motorcycle segment (think 700-900cc) was always a happy medium for most consumers, providing adequate power and technology, all while being relatively affordable. The V85TT, while late to the game, is Moto Guzzi's first modern venture into this segment, and the best thing about being late is that you can always see who's at the party. And so, the V85TT aims to be a versatile, fun, and unique motorcycle that suits any riding condition, all while staying true to the core values of a brand that hails from the shores of Lake Como in the town of Mandello del Lario, Italy.
Our friends at Bikerbox, official distributor and service center for Moto Guzzi, Aprilia, and Vespa, sent me an invite to Thailand to ride the V85TT. We would be the first in the region, and in the Philippines, to get on the saddle, and I, together with a couple more press from local publications, were very excited to get my hands on it. The launch was supposed to originally happen in Bangkok, Thailand, but was moved to Phuket instead because of slash and burn farming creating unfavorable riding conditions. I wasn't complaining, and Phuket was always on my bucket list of destinations to go to, let alone ride around. After half a day of flying via a connecting flight, we finally landed in Phuket and were greeted by representatives from Moto Guzzi who then shuttled us to our accommodations for the next three nights. Baba Beach Club in Phuket, member of a chain of high-end resorts in Thailand, offered us expansive two-bedroom pool villas, complete with a kitchen, receiving area, and an on-call villa attendant – fancy stuff. We were already keeping our eyes peeled, looking out for the Moto Guzzi V85TTs that had arrived several days ahead of us. Having already heard nothing but praise from press in Europe and during its reveal last year at EICMA, we were already surrounding the bike as it was wheeled onto a display stand at the resort entrance, for all to see.
Right away, you can tell the Moto Guzzi put a lot of work into making the V85TT a unique looking motorcycle. The transverse V-twin engine is carried over from the V9 Bobber that we reviewed in the Philippines, albeit tweaked in terms of output and componentry, and at 853cc, power figures are rated at 80 hp and 80 Nm of torque. The engine stands out immediately, then your eyes pick up on the nicely shaped tank with creases and indentations for the way the engine is mounted. No chains here, as this motorcycle is completely shaft driven, and the only one in its category. The visible trellis frame and extensive piping together with a classic adventure beak, spoked wheels, and knobby tires instantly evoke memories of early Paris-Dakar motorcycle endurance races, more so with the amazing paint scheme of red, yellow, and white. The TT stands for Tutto Terreno, meaning "All Terrain" in Italian, and the Mandello Eagle, the symbol of Moto Guzzi, extends its wings proudly in the LED daytime running light, sides of the tank, and at the base of the engine. The buttons and switchgear are very similar to the Moto Guzzis we've reviewed before, but the added modern touches come in the form of a TFT screen, riding modes, cruise control, a new throttle-by-wire system, LED lighting all around, bluetooth functionality for pairing your phone, and safety features such as ABS and traction control. In terms of looks, it's unmistakably an adventure bike, but it's also unmistakably Moto Guzzi, which means it's completely unlike anything in the middleweight adventure segment right now. But that's just scratching the surface; looks are one thing, but how does it ride?
The next day saw a 214 kilometer, four hour ride with some stops at scenic locations. It would be a mix of on-road and off-road sections, plus varying traffic conditions and faster highway stretches; the perfect combination to test out any motorcycle. Straddling the Moto Guzzi V85TT reveals that, despite the rather tall height of the cylinders, the center of gravity is placed low enough to make it easy to lift off the side stand. Also, despite the 830mm seat height (lower and higher seat options are available), the middle of the seat is narrow, making it easy for someone close to six feet to flat-foot the motorcycle. This confidence and neutral weight from the bike makes it easy to handle in most riding conditions, especially where it matters most; low speed maneuvers and tight city riding. Turn the key and the TFT screen comes to life, showing off a short few seconds of the Moto Guzzi logo, then defaulting to a nicely laid out, full-color screen that gives a great amount of information at just a glance. Trip meters, average consumption, speed, RPMs, a gear indicator, and even range and fuel levels are all easy to spot. This is also where you'll find the menus for adjusting things like display language (we left it in Italian for maximum effect), brightness, and various measurement adjustments. Thumb the starter and the bike does the charming left to right sway that all Moto Guzzis do (gotta love that transverse twin). We were to leave in numbered order, with me as number seven atop the tasty two-tone model, and I press down on the shifter to get into first gear. Hmm. No clunkiness at all; it felt smoother and more refined than previous Guzzis. A sign of good things to come?
As we pulled away at speed, the vibrations of the throaty and charismatic V-twin start to smoothen out and the power delivery is smooth and as linear as can be. I look down and notice that the riding mode is set to "Strada" or "Street" in Italian, providing a good level of ABS and traction control intervention when needed, but not getting in the way of all the fun. Moto Guzzis has decided that the rider will have access to the full 80 hp and 80 Nm of torque regardless of the riding mode; what changes is ABS, traction control, and throttle sensitivity. The other modes, "Rain" and "Off-Road" are self-explanatory, with the former having less sensitivity in throttle and more intervention of ABS and traction control, and the latter having the least sensitive throttle together with the least amount of traction control and ABS only for the front wheel, leaving you to power slide and drift on dirt paths. Nice.
We started with a short highway stretch, testing the high speed wind protection and stability of the V85TT. The windscreen proved to be good, even at my height and without the optional, taller touring screen. The bike also felt good at past triple digit speeds despite being equipped with Michelin Anakee dual-purpose tires at 19 inches at the front and 17 inches at the rear, and only a slight bit of tire noise could be heard. Once the route started to get a little bit more twisty and technical, the bike felt extremely neutral and predictable; hallmarks of a bike that's designed to be easily used and versatile. I found myself pushing harder through the corners, all without any of the traction control intervention I was expecting on these off-road biased tires. What helped was that the engine on the V85TT is tractable and offers a nice, usable powerband, making 80 hp and 80 Nm of torque feel like a perfect sweet spot. I found myself staying in a higher gear than normal, and powering out smoothly through the corners, with the nice engine note singing all the way through. The suspensions also worked wonderfully out of the box, and felt just right in fast sections, and soft enough for more bumpy portions of the route.
Entering towns and congested intersections, the V85TT performs at low speed, providing a smooth and hassle free throttle and engine sensation; none of the chugginess found in some twin cylinder motorcycles. The V85TT is also rather narrow, especially without the optional side panniers, making it easy to filter in between cars (yes, lane splitting and filtering is legal in Thailand). The daytime running light also makes us very visible to other road users. The light sensor defects low lighting conditions and turns on the regular LED headlights automatically; a great touch of convenience. The LED taillights of the bikes braking in front of me also show off their aeronautically inspired design, mimicking that of turbines from a jet engine.
We had a short river crossing with a mix of gravel and dirt road, too, demonstrating the capability of the V85TT. It feels light and nimble enough to have some fun, and power sliding through corners is perfectly possible. While the bike I had was equipped with Michelin Anakee tires well suited for off-road, the non two-tone V85TTs are equipped with Metzeler Tourance Next tires; more road focused with light off-roading in mind. None of the Filipino riders had problems on either motorcycle regardless of the road conditions, and you could always swap for a more road focused or more off-road centered tires in the future.
As we started to clock in at least four hours of riding time, I noticed that I never felt uncomfortable on the saddle. The seats are nice and cushy, and the riding position is definitely relaxed, with some space to move quite a bit if you want to have some fun. The V85TT is the kind of motorcycle you could ride all day, regardless of where you're going.
In a world of segmentation, Moto Guzzi has taken a few years to study and take some notes, and the goal was to create a motorcycle that is easy to ride and suitable for almost any trip - essentially a jack of all trades. The V85TT is the perfect way to bring Moto Guzzi within striking distance of other established contemporaries, combining the technology and amenities riders expect of modern motorcycles, with the style and heritage of a brand that's almost 100 years strong. In many ways, the V85TT hits the ball right out of the park, and is unlike any middleweight adventure motorcycle on the market today. More importantly, the V85TT is the perfect bike to take Moto Guzzi to the forefront of people's minds when shopping for their next medium size adventure motorcycle. With sharp looks, a perfectly balanced chassis and versatile engine, plus modern technology, we don't say this too often, but if you could only have one bike in your garage, the V85TT would probably be it. Official pricing has yet to be announced, but expect the V85TT to hit our shores by the fourth quarter of 2019.
---
---
Related Articles
Do you feel the heat? Follow these tips to stay cool on two wheels this summer.

Here are 5 things you need to do before buying your first motorcycle. Doing so will ensure you're prepared for what the road ahead has in store.

With summer well and truly here, it's time to consider what's best to wear when out on summer rides.

Here are a few things you can do to address leaking fork seals. Just make sure never to ignore this potentially dangerous scenario.

Here are 5 things to consider when time comes for you to replace the tires on your motorcycle.
---
Latest Features
Husqvarna has debuted its 2024 model range in the global market, consisting of updates to the TE and FE enduro models.

Both the KTM 790 Duke and Triumph Street Triple RS are extremely popular middleweight naked bikes. Let's take a closer look at the two of these bikes in this comparo.

To waterproof or not to waterproof—that is the question. Read on to see if investing in waterproof riding gear is worth it?