/ Review
Shark Spartan RS Carbon Skin helmet — Gear Review
Shark is hunting in some sport-touring waters, how will this helmet fare in the heat of the Philippines? Read on to find out.

on Mar 21, 2023
Shark's not a well-known brand in the Philippines, at least not yet, but that may soon change. This is Shark Philippines' best-seller, the Spartan RS. This particular helmet is the Carbon Skin variant, which is lighter and can be had with either a matte or glossy finish. Shark also boasts that the Spartan RS is the very first ECE 22.06 homologated helmet with a drop-down sun visor, making it a pretty special model for the French helmet manufacturer.
WWR Manila is now responsible for bringing Shark Helmets' products into the Philippines, and it looks like they're ready to take on the rest of the helmet industry's big players. By the looks of it, the Spartan RS presents the best value in the company's product lineup.
On a more personal note, I brushed off Shark prior to this engagement with WWR. Shark wasn't a helmet brand that was top of mind when I first started riding. Big players like HJC, Arai, and LS2 were some of the first few brands I considered while on the hunt for a new helmet. After getting a chance to run with the Spartan RS, however, I might have to add this French marque to my list of favorite brands.
Design and Build
Initially, I was skeptical about jumping into bed with another brand after being so loyal to HJC for quite some time. Being naturally nitpicky about things, I tend to take apart a helmet to find flaws with it, and it's safe to say that after my dissection session, I was quite impressed with the build and construction of the Shark Spartan RS. The design, on the other hand, is an acquired taste. Personally, I like it on the back of my KTM 790 Duke. This helmet feels right at home with a sharp naked bike, but not so much with more modest-looking motorcycles. Shark stated that this helmet was designed with a bit of retro inspiration, but it's more retro 90s than anything, blending almost seamlessly with a Suzuki Katana, at least in my opinion. I'd say that the design is aggressive but somewhat classy. It's a little toothy with that aggressive design on the chin, but it's very sedate everywhere else.
I hold my lids to a high standard whenever I assess build quality, and the Spartan RS passed with flying colors, especially with regard to the interior, but more on that later. Right out of the box, you will notice the finish of the helmet, my unit in particular is matte carbon. Admittedly, I should have gone for the glossy carbon finish of the Spartan RS so you could see the weave even from afar. However, I do appreciate this other side of the coin, this Spartan RS Carbon Skin in matte something that's less shouty and less conspicuous, but still appreciable up close. One gripe that I have is with regard to the softness of the matte finish. After a few rides, a few stone chips began to show themselves, but that's only because my friends love their sticky tires.
Shark's take on a carbon fiber helmet involves mixing the carbon weave with multiaxial glass fibers, resulting in a helmet that is light without compromising the shell's integrity. Coming in at 1,485 grams in a size small, it's a rather light lid. The medium is the same weight as well. It's also worth noting that the standard non-carbon versions of this helmet come in at just a touch heavier, a little over 1,500 grams in a medium or smaller, so going for the carbon fiber version isn't an absolute necessity, at least in my opinion. In the sport-touring category of helmets, the Spartan RS is only a relatively lightweight lid. One contributing factor is with regard to the number of shells this helmet has. Only two shell sizes will be available for this helmet throughout its entire size run, which spans from extra small all the way to extra-extra large (XS to 2XL). The larger shell size starts at the large, so large to extra-extra large (L to 2XL) will come with the bigger shell. Other helmets in the premium tier will come with at least three shell sizes, and this is a small miss for Shark, albeit one that I didn't notice while riding. To me, riding with a shell that could have been smaller is no deal-breaker. I wouldn't have known if it wasn't pointed out to me, to be totally honest.
To end this section on a high note, I have to give it to Shark in terms of shell quality. The carbon was continuous and consistent throughout the helmet, and the visor and vents all switched, pivoted, and snapped into place well, especially the top vent and the visor latch. You get a very positive click every time you actuate these items on the helmet, and Shark's micro detent system is a godsend for people that are very particular about how much a visor is cracked open.
Interior and Fit
I was able to get my true size with the Spartan RS. I'm usually at the border between a medium and a small since most helmets on the market are intermediate oval, whereas my head is a round oval. My advice is to go out and try this helmet out for yourself. Getting the right fit for a helmet is extremely important, so I suggest that you head on over down to your nearest Shark dealer and test fit a few sizes. Don't be afraid to go one size smaller especially if you know that you have a round oval head.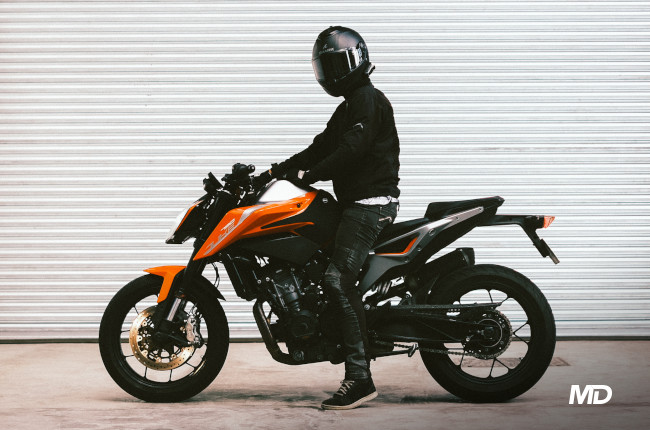 It's also important to note that the Spartan RS leans more on the sporty side of things in the sport-touring category, which is cemented by Shark's decision to go with a double-D ring enclosure system. The cheek pads are rather snug, which can be good or bad depending on how you look at it. Personally, I prefer having a very snug-fitting helmet on my head, as evidenced by my love for sporty lids. The Spartan RS might be a bit too tight for some people, but I found the fit to be pretty spot-on for my thin face so your mileage may vary. Consider that the pads will break in, but not by much, the foam that Shark used molds more than it breaks in. Another thing to note is the lining of the cheek and crown pads. Part of the padding is covered in a velour-like material, while a moisture-wicking lining is placed in high-sweat zones. Shark said that they wanted this helmet to be an in-between type of lid, comfy in all the right areas, but ready for action where you need it. The result is a very plush lid. It's like sleeping in a memory foam mattress, comfy and supportive, but not without a few caveats, which I will touch upon later in the performance section of this review.
Apart from that, spectacles fit well on this helmet. If you ride around with eyewear, depending on what type of frames you use, there will be little to no trouble slotting it into the channels. Speaking of accessories, and just like any other modern helmet, you can fit a Cardo or any other comms device on and in this lid without any problems. There are cut-outs in the EPS foam to slot in speakers, and the helmet accommodates a comms unit extremely well thanks to its flat sides.
In summary, I can safely say that this helmet is one of the best-fitting ones out there, at least for my head. It certainly has one of the most luxurious interiors I've tried so far and it has plenty of modern features.
Performance and safety
I used this helmet for a good two months at the time of this review's publishing. I alternated between my HJCs, my Arai, and this Shark. Apart from needing to experience the helmet, I found myself reaching for it more than I initially anticipated. One reason was because of its fit, and the other reason is because of its rather quiet performance. As a sport-touring helmet, it's actually quite decent at cutting through the air and blocking out wind noise. At 100 km/h, the helmet was very quiet. Past 140 km/h, however, that's when the noise really started to get distracting (allegedly). The way that the helmet cut through the air and remained stable is also one of the reasons why I chose this helmet for longer rides. The comfiness really paid off on long stretches of highway and faster roads.
However, I will note that the ventilation scheme in this lid leaves something to be desired especially when compared to my other helmets. I barely feel the front vents flowing air onto my face. In the city, I had to crack open the visor or ride with it open in order to cool my face down. The top mohawk vent was more than good enough paired with the integrated exhaust vents on the spoiler, but the chin vents were not too great—as unique as they looked. I believe a majority of the air that flowed through the chin vent was meant for the visor, which still came with a Pinlock 120 lens anyway for total fog-proofing. It's only when you reach highway speeds that you'll feel a decent amount of airflow through the chin vents. That said, you can't have it all and I believe that more vents would have sent more wind noise to my ears in addition to the snugness of the interior.
Apart from that, the visors on this helmet were top-notch in terms of clarity and visibility. The field of view that this helmet offers is adequate for most riders, but it might be lacking in a full tuck (not that this helmet was meant for track use anyway). The secondary visor might take some getting used to as its switch is located at the back of the top vent. You get micro detents so you can set the height of the sun visor any way you want, however, it doesn't go low enough and there is a bit of a gap on the sides, letting in a little ray of sunshine into my peripheries. On top of that, the secondary visor isn't fog-proofed which is slightly disappointing.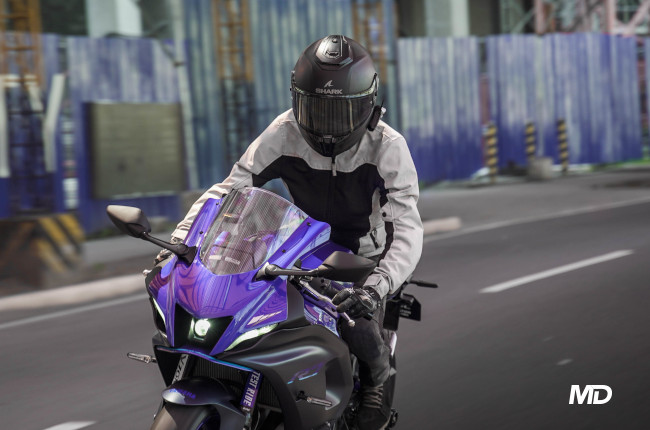 As for safety ratings, Shark is the first manufacturer to homologate a dual-visor helmet under the new ECE 22.06 standard, so you know that it is safe. ECE 22.06 testing is a lot more stringent than the 22.05, so safety is assured. The ICC sticker is present, and this helmet will definitely pass the DOT rating as per my educated guess. WWR sent me some photos and testimonials of riders who crashed in the Spartan RS to serve as proof of this lid's integrity. Believe me, I've seen a lot worse from other lesser-quality brands. Shark's a safe bet.
Verdict and Price
Pros, I think that this helmet is a great choice for long rides. The comfy and luxurious interior had the makings of a P30,000 helmet. The carbon fiber shell is equal parts cool as it is safe. The aerodynamic shape did really well to cut through the air, and the overall quietness at legal speeds made me reach for this helmet more than I initially thought.
Cons, the chin vents and the two-shell-size production run prevent me from awarding top marks to this helmet. There were days that I felt hotter than usual, and also others when I'd sweat a little more. Also, the minor inconvenience of having your second visor fog up is a slight oversight in my book and something that Shark should fix if they were to update this lid. The style is a bit of an acquired taste too, being more progressive than what most people are used to. Even so, nothing feels cheap or out of place with this helmet, and after seeing the price, I almost totally forgot all about the cons.
See, the Spartan RS starts at just P18,500 for the basic fiberglass variant which is available in several colorways. Meanwhile, the carbon models range between P22,000 to P23,000. Now, if you know how much premium carbon fiber lids cost, P22,000 is an absolute steal in the premium segment. Never mind the cons of this helmet if you're paying about two-thirds or half the price of a competitor. The bang-for-buck factor is strong with the Shark Spartan RS Carbon Skin and the standard Spartan RS. I'm excited to see Shark take a bite out of the helmet market and if you're looking for a premium-level lid on a budget, not only would I recommend HJC, but I'd recommend this Shark as well.
---
Related Articles
We recently got our hands on the shiny new Shark Spartan RS helmet, and we were thoroughly impressed.

Understanding this bike will require a little mechanical sympathy, loving this bike is reserved for only a select few.

4.0

/

5

The Honda Rebel's scrambler of a brother, the CL500, is a more standard-looking beginner big bike. Is it any good? Here's a first impression.

Poweroad's lithium batteries offer lightness and longevity for your motorcycle, but is it worth upgrading to and can you upgrade to it?

Here is our first ride impressions of the brand-new 2023 Honda Transalp XL750 after a short test ride.
---
Latest Review
Read on to learn more about the capable Aprilia Tuono 660, a disruptive force in the middleweight sportbike segment.

4.4

/

5

We got the chance to run the 2023 Triumph Speed Triple 1200 RR through its paces, and needless to say, it was a thrilling, adrenaline-fueled ride.

We recently got our hands on the shiny new Shark Spartan RS helmet, and we were thoroughly impressed.