/ Review
Parani M10 by SENA – Gear review
For under P4,000, this motorcycle comms device is a great value.

on Oct 23, 2020
Motorcycle comms are expensive. Brands like Cardo and Sena are the two main players that always jostle for the top spot and this has brought about a lot of innovation. With some healthy competition, comms have evolved into some of the most feature-dense devices in the world of gear, and it is with those features that the price gets sky-high.
Being a relatively new rider, especially one on a budget, will keep you from experiencing the quality and features of a Cardo Packtalk or a Sena 50R, however, if you want a great entry-level comms system that doesn't break the bank, has great backing from a name brand, and is also guaranteed to sound good and also function reliably, then this is up for consideration, the Parani M10 Motorcycle Intercom by SENA.
Design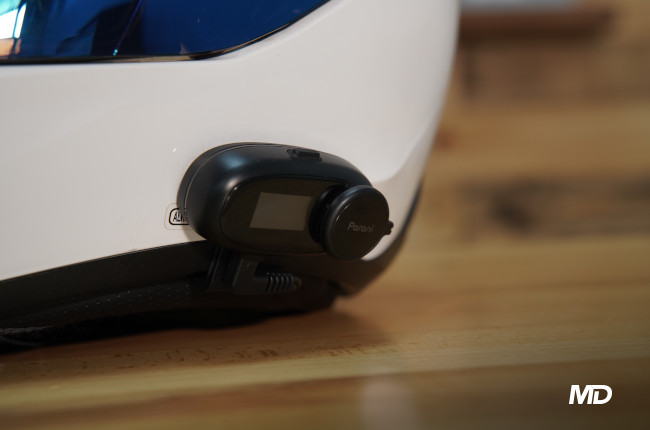 In the box, it's a complete kit. You get the unit, a USB-C cable, a clip-on cradle and an adhesive cradle, the speaker and microphone set, and also instructions. Apart from that, the packaging is decent, but let's dive into the product itself. It'll fit on pretty much any aesthetic, be it on a CFMoto 400 NK or even a Yamaha XSR 155. Either way, it's a low-key design that won't shout too loudly.
Installation is relatively easy. Be ready to tuck some cables into the nooks and crannies of your helmet in order to get it installed cleanly. No modifications need to be done, unless your helmet doesn't have cutouts for speakers, in which case, you need to grind away the EPS foam, but if your helmet is fairly modern, there should be no need for drastic measures. The wires are thin enough to fit into the small gaps in the helmet and thin enough that when properly installed, it won't cause hot spots when you wear your helmet. The speakers, however, are thin enough and don't interfere with your helmet's fit, however, the HJC i10 that we used to test this product does have cutouts that can fit a rebranded Smart HJC comms unit, which is also another SENA-backed product specific to this model of HJC.
The unit, once installed, is very low-key. It doesn't look as bold as the Packtalk Bold, or as bulky as a SENA M50. It's a pretty compact comms device that won't stick out like a sore thumb on the side of your head. It's sleek, it has a round and more streamlined look and the buttons and jog wheel feel of quality and is loads of premium. We particularly like the LCD display which displays information quite clearly. We will lament, however, that the USB port flap easily opens, and could cause us some worry if the rains get too hard and you end up unseating the flap, otherwise it's a solid device for the price – and yes, it does have a USB-C port, so you won't have to worry about bringing a proprietary charging cable like many comms in this price bracket have, which is just another pro in our books.
Practicality and features
It's not a mesh-based system first and foremost, which explains why the price is so good. It's a Bluetooth-based comms device that can also pair with your phone via the same tech, and it will allow you to communicate with up to 3 other riders – bringing the total to 4 – with a stated range of about 1 km or 0.6 miles. You can also listen to music, listen to FM radio stations, take calls, and even use voice commands with your phone. The cherry on top of it all is the firmware upgradability of the Parani M10. Not a lot of entry-level comms devices will allow you to upgrade the firmware let alone give you a provision to. This is pretty impressive, we will say.
Turning on the device is done by holding down the multi-function button and the jog dial for about 3 seconds. Turning it off is the same, though you only need to press those two buttons at the same time and not hold them down. Pairing mode can be initiated by holding down the multi-function button until the pairing prompt is shown on the LCD. Switching between the FM and Phone audio is done via a long press with the multi-function button.
The jog dial is something to get used to. If you've used inline mic controls for wired or even wireless earbuds, then you have to chuck those commands out of the gate as we've discovered. If you want to play and pause your music while on a ride, you have to hold down the jog wheel for a little over 1 second, and then your music stops. Hitting the button once will stop the music temporarily because the unit will go into comms mode. Switching tracks is also done with the jog dial, going up and pressing brings you to the next track and ups your volume, which can get a bit annoying at times, and doing the opposite will lower your volume and go to the previous track. It's a small hassle, but once you get the hang of it, the jog dial interface is very easy to use. You won't have to hunt for it even with gloved fingers, but the control scheme will take a small amount of adjustment.
Bluetooth Intercom
Now, we've tested the supposed range of the intercom in traffic and on long rides on the highway and on smaller roads. Like other Bluetooth communicators, the main caveat is the interference and actual range of the device. Hence, the claimed range is shorter in practice. Though, when two M10s were within the range of each other and the signal was clear, audio quality was very good with only a few drops in fidelity. The supplied mics are also great and will be made even better with a high-quality helmet, but that's obvious.
Pairing is going to take a few minutes before your group of 4 sets out. To pair intercoms, you need to hold down the jog dial for 5 seconds on all the units you want to pair. You will hear two beeps inside your helmet when the intercom pairing mode is active. When you set off for your ride, just tap the jog wheel to get in touch with your buddies and you should be good to go. Note that it's not the simplest and hassle-free process but once everything is up and running, it's a pretty decent experience.
Audio Quality
We will say, however, that the quality of sound that you get out of these speakers punch quite high above its price point. After doing a bit of research on this comms device, the speakers and mic are in fact lifted from the SENA product line. So the audio quality that you get from this particular comms device is much better than most other off-brand units. In particular, voices come off as clear and sharp. Podcasts and talk shows in particular are easy to listen to. Music, depending on the helmet, will be satisfying, with good mid-tones and well-pronounced highs. If your phone has an equalizer, we recommend that you tweak some settings if you want more thumping bass.
Mic quality is also very good. Of course, quieter helmets will reign supreme and buckets with a chin curtain even better, but for what it's worth, the mic is plenty good enough and clear enough without cutting out when you will talk over the wind noise while on the saddle.
Battery Life
I've been using the M10 on long rides and my daily commutes going to and from work through traffic. The unit was able to last me the whole day and then some. Parani advertises 6 hours of use out of this comms system, but even after a 5-hour ride I only managed to deplete one bar of life from the system. That is also taking into account that the intercom function wasn't being used. Realistically, if you were to use the device for nothing but music, it should last you quite some time. Safe to say that the 6-hour figure is more pessimistic. Just make sure to turn it off every time you gear down or park. Once you do start using the intercom, expect the battery to last closer to the manufacturer's advertised figure.
Also, if you happen to run low on power, you can just bust out the cable and charge it. The battery tops up fairly quickly, and to fully charge the battery, leave it plugged for about 2.5 hours, as stated by Parani, and you should be good for quite a while.
Price and Verdict
The Parani M10 was purchased from MotoMarket, but the item is also available in their other brand stores like MotoWorld and MotoStyle. The staff was also kind enough to install the unit for us in a helmet of our choice. For just P3,950, the M10 is a step above the generic units out in the market and is a great entry-level comms device. Sound and build quality are superb and the LCD screen is a nice touch. You might run into some hurdles with connectivity, but that's beside the point.
So for riders on a budget who have never experienced riding with a comms device, this is a great piece of gear that you will find yourself using on a daily basis. If you already have a comms device like a Cardo or a SENA but want a spare one that you don't have to worry about banging around, consider this.
---
Related Articles
We recently got our hands on the shiny new Shark Spartan RS helmet, and we were thoroughly impressed.

The PackTalk Edge is the latest and greatest from Cardo, find out whether it's worth buying on this Gear Review.

Let's take a look at the Kriega Trail 18 backpack, and see why this bag is one of the best all-rounders in the market.

Poweroad's lithium batteries offer lightness and longevity for your motorcycle, but is it worth upgrading to and can you upgrade to it?

If you're in the market for a new pair of touring boots, Falco's Land 3 could fit the bill perfectly. Read more about it here.
---
Latest Review
Read on to learn more about the capable Aprilia Tuono 660, a disruptive force in the middleweight sportbike segment.

4.4

/

5

We got the chance to run the 2023 Triumph Speed Triple 1200 RR through its paces, and needless to say, it was a thrilling, adrenaline-fueled ride.

We recently got our hands on the shiny new Shark Spartan RS helmet, and we were thoroughly impressed.