The GS line of motorcycles in the BMW stable have always been top sellers. The German manufacturer is legendary in the adventure segment, so much so that it is one the first model designations that you would look at if you were in the market for a machine in the said category – provided you have the money to back it up that is.
Now, not everyone can afford a 1250 or even an 850, much less the GS Adventure. You need serious amounts of money if you want to get one. Not only that, but you also need serious amounts of confidence to pilot something as huge as that, especially in Metro Manila. So here is a solution, if you don't need to go on the highway in the Philippines and still want that BMW badge on your fairings, then perhaps the BMW G 310 GS is a worthy answer.
What You Will Like
Peppy 313 cc engine
Comfortable ride
Light handling
5-year, 500,000 warranty
What You Won't Like
Halogen headlight
Shifter feel is a bit vague
Bit pricey
Design
When we first got the unit, it just screamed "baby GS" and it is pretty much the case if you were looking at it from afar. The proportions are definitely smaller than your usual R 1250 GS and even more so with the GS Adventure, it is definitely shorter than its larger brothers. It also doesn't look as imposing or impressive, and its rather skinny build makes it look more like a fat dual-sport more than an adventure bike. It doesn't have the sheer mass that the bigger GS brothers have, but it looks slim and seems like something that won't be too much of a hassle to take off the beaten path in light trails given its 220 mm of ground clearance.
Also, you have those special touches like the gold inverted forks, the luggage rack at the back, crash guard, and decals all around. It doesn't look basic, but there are a few things that we wished were better on this model, such as the halogen reflector headlamp. At the price that this motorcycle commands, we were hoping for at least a projector just to give it a more menacing look. Apart from that, the materials used are pretty good, and most touchpoints like the switchgear and controls feel very pleasant to use.
Overall, it's a pretty nice-looking bike, if not a bit lighter than usual, but the lightness positively affects the riding experience which we will touch on later. When it comes to presence, it's no R 1250, but it is still a GS in terms of its general shape and stance. You can still pass someone on the road and it'll make some guys do a double-take because they'll either be saying "Wow a GS," if they don't know what they are looking at or "That GS looks abnormally small," if they do.
Performance
With a 313 cc single-cylinder engine, the G 310 GS is pretty spritely. Now, it's still not highway legal in the Philippines with that displacement, but the engine is more than capable to go up to highway speeds with some overtaking power to boot. It's got 34 hp and 28 Nm of torque. The motor gets pretty lively in the mid ranges, and it revs up very quickly. The engine responds well to throttle inputs and downshifts. Speaking of downshifts, you get a 6-speed transmission that is quite good to use once you get the hang of the shifter and its travel. When it slots into gear, it doesn't feel that beefy like a big bike, instead, it feels clicky with short lever travel. The shifter feel is fair, and finding neutral for the first few rides will require some finesse, however, once you get up and running it returns good performance. You will only get up to about 140 km/h in terms of top speed, however, it gets up to that top speed rather quickly.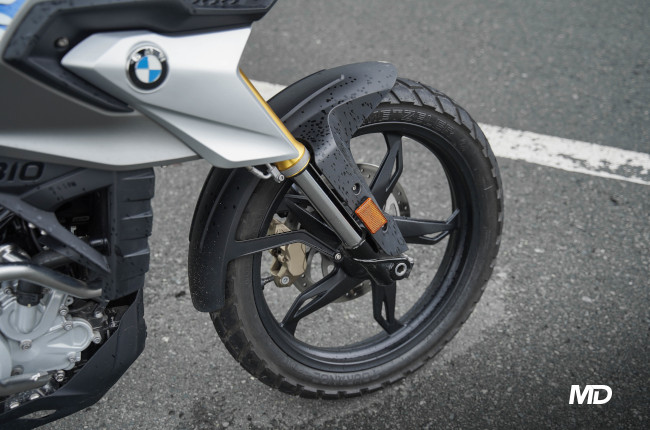 We will say that handling at low-speeds is easy enough especially since the wide bars give you so much leverage. Handling at high speeds, like most GS models, gets a little shaky when you push it. That's a given in this category, especially something that is so light and flick-able. On the road, the GS handles light and with its Metzeler dual-sport tires, which are decent enough for a stock tire as long as you don't expect sportbike levels of grip. It does have 19-inch wheels in the front so that would explain why it is so good at going over bumps and potholes. Taking bumpy roads at speed may phase the front a bit given that it is so light, however. Coming to a stop is only fair with the 4-piston 300 mm caliper and disc Bybre system in the front, and a 2-piston Bybre caliper with a 240 mm disc in the rear. The brakes are only average, hampered by the fact that you're dealing with road-biased dual-sport tires and not full-blown road rubber.
If we're being honest, it's a perfectly capable adventure bike. Lighter than most while making decent power. The horses coming from the 313 cc engine is good enough for most tasks. Don't expect to zoom past everyone, however. It's got everything that you would need from a motorcycle, and it seems comfortable enough to take on a long ride – speaking of which…
Comfort
Now, like most adventure motorcycles, your seating position is upright, giving you a commanding view of the road along with a very comfortable and long-ride-friendly posture. The 310 GS was able to smooth out a lot of the road imperfections we have in Metro Manila. The seat is also quite soft for a stock setup. Other ergonomic features include the well-sculpted tank, a very shapely and supportive seat. You can also tie down a few items at the back with the standard luggage rack.
In short, it's a very comfortable ride with the GS. The springs aren't too soft nor too hard for any ride, long or short, and the weight of the bike keeps you fresh and free of fatigue. We only wish that the footpegs were wider and were more geared for off-roading, instead of the rubber topped pegs that BMW installed. With a seat height of 835 mm, most Filipinos of average height might end up on tiptoes, but given good habits and putting your left foot down, the bike is easy to keep upright at a stop and set off with when the light turns green.
Tech and safety
You don't get a TFT gauge cluster in this model, instead you a get a standard LCD digital display that is enough to get you going in more ways than one. With this cluster, you get a digital tachometer, fuel meter, speedometer, trip A and B, distance to empty, average fuel consumption, average speed, coolant temperature, and even a gear indicator. It's more than enough for your needs, though it's not as special as a full TFT display. For safety, you get ABS as standard that you can even turn off for when you go off-road, but that's pretty much it.
Usability and Practicality
Apart from that, the steering is also light and the bars give you a lot of leverage, the width of those bars can interfere with lane splitting, as are the taller mirrors. Sedans won't be a problem for the bars, but taller cars like trucks or SUVs may clip you if you're not careful. You do get a rack at the back that you can use to tie down stuff like your backpack or even some smaller items. Though, we can see this is a bike ripe for attaching panniers or a top box. Underseat storage is just enough for a few documents and just enough for a small tool kit.
Fuel economy, however, is pretty good for a bike like this with nothing but traffic in the city, we managed 25 kilometers to the liter, which is not bad. Unfortunately, we couldn't take it on the highway to test, but our hunch would be that it would have scored about 30 to 35 km/L at 90 km/h in 6th gear, though that is just a very rough guestimate. Though the tank is a bit on the small side for an adventure bike coming in at just 11 L, you do get a reserve of 1 L just in case you whittle down that tank capacity.
Verdict
So for the price of P300,000, the G 310 GS is just the tip of the iceberg for a bonafide BMW adventure bike experience. It's a pretty much go-anywhere bike from a premium brand for not that high a price considering what you get is also backed by 5 years or 500,000 km worth of warranty.
Let's imagine that the 400cc highway rule the Philippines was 300 ccs instead. In this scenario, this G 310 GS will make the cut and will be a great option for people looking for an entry-level adventure motorcycle that is well-built, has good performance, and has a name badge on its fairings. It's not that intimidating to mount. To boot, you get all that ground clearance for those off-road skirmishes from time to time.
Woefully, the reality is that we do live in the Philippines, and while the engine is willing, the law doesn't allow it. It's such a fun bike to take around, town, through back roads, and especially through some dirt. Perhaps it just solidifies the fact that it is an adventure bike, meant to discover new roads and go nearly anywhere – almost.
Exterior Photo Gallery
---
---
Related Articles
Understanding this bike will require a little mechanical sympathy, loving this bike is reserved for only a select few.

4.0

/

5

The Honda Rebel's scrambler of a brother, the CL500, is a more standard-looking beginner big bike. Is it any good? Here's a first impression.

Poweroad's lithium batteries offer lightness and longevity for your motorcycle, but is it worth upgrading to and can you upgrade to it?

Here is our first ride impressions of the brand-new 2023 Honda Transalp XL750 after a short test ride.

Here's a very premium way to get into retro motorcycles and motorcycles in general, the Royal Enfield Hunter 350.

3.6

/

5
---
Latest Review
Read on to learn more about the capable Aprilia Tuono 660, a disruptive force in the middleweight sportbike segment.

4.4

/

5

We got the chance to run the 2023 Triumph Speed Triple 1200 RR through its paces, and needless to say, it was a thrilling, adrenaline-fueled ride.

We recently got our hands on the shiny new Shark Spartan RS helmet, and we were thoroughly impressed.