/ News
The 2021 Honda Gold Wing gets even better at long distance touring
More luggage space, more creature comforts.

on Jan 13, 2021
---
It goes without saying that 2021 has an impressive lineup of motorcycles across multiple manufacturers in store for us. Honda, for one, has been hard at work in revamping its model range for the new year. What better way to start than with the world's most iconic touring bike, the Honda Gold Wing?
The Honda Gold Wing, now a few decades old, has evolved from a seemingly normal UJM in the 80s, to what can quite possibly be described as a car on two wheels today. Having increased its size again and again, the current generation Gold swing boasts a gargantuan 1,833cc flat-six engine that churns out around 125 hp. Now, in a country like the Philippines, to say that the Honda Gold Wing isn't the most practical motorcycle would be a massive understatement. However, in Europe and America, which have kilometers of freeway on end, well a bike like this kind of makes sense.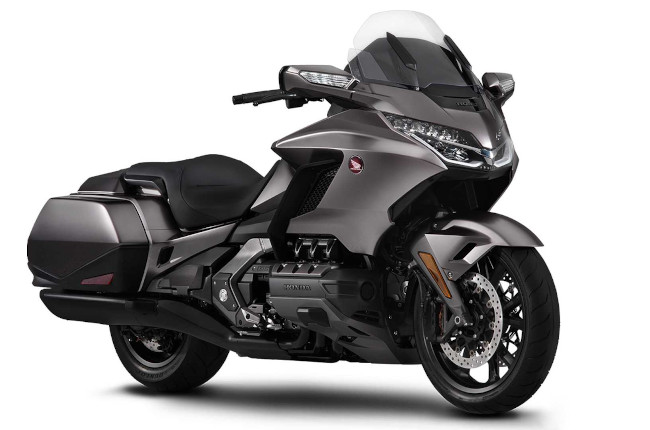 That being said, new for 2021, the Honda Gold Wing has upped its game in terms of long ride ability by adding a variety of additional features geared towards making long haul rides more comfortable and practical. For starters, it now comes with a 61 liter tour trunk that's big enough to fit two full-face helmets.
The new Gold Wing also features nifty creature comforts such as a redesigned passenger backrest that features a more relaxed angle, thicker and more comfortable foam, as well as a slightly taller profile. The seat now gets faux suede upholstery which prevents the rider and pillion from sliding around under acceleration and braking. Lastly, the tourer's sound system has been fitted with upgraded 45 watt speakers with optimized automatic volume adjustment and a standard XM radio antenna. Of course, the 'Wing comes standard with Android Auto and Apple CarPlay compatibility.
Honda Philippines has yet to announce the launch of the new Gold Wing in the Philippine market. That being said, the current generation of Honda Gold Wing is undoubtedly a more than capable long distance tourer. It will, however, set you back a sweet P1,880,000.
---
---
Related Articles
MV Agusta has rolled out numerous updates to the 2021 Brutale and Dragster 800

Royal Enfield has updated the Royal Enfield Himalayan for the 2021 model year. Here's a rundown of those updates.

Bristol has launched the 2021 Bristol Bobber 650. The new cruiser is priced at P398,000

Ducati has launched the Multistrada V4 in the Philippines at P1.7M

Suzuki has updated the Suzuki Hayabusa, and will officially launch the bike on February 5. Here's what we can expect from the new 'Busa.
---
Latest News
Yamaha Motor Philippines concluded the Mio Gear Moto Campground in CDO, showcasing the prowess of the Mio Gear and its riders.

Motorcycles are set to be included in Euro NCAP's crash testing by 2024, as the organization beefs up its testing parameters to improve safety.

After phase one, which includes road racing helmets, the FIM will be entering phase two of its plans: Off-road racing.