Cruisers are among the most overlooked types of motorcycles in the local market. Perhaps it's because Pinoy motorcycle enthusiasts have always been more biased towards bikes of sportier nature such as sportbikes and naked bikes. However, cruisers present themselves with quite a lot of character—not to mention their ability to tackle kilometers of highway on end while providing comfort and style.
Getting into the cruiser segment is also a good idea for height-challenged riders, as well as first-timers with limited two-wheeled experience. Thanks to their very low seat heights and laid back, relaxed ergonomics, cruisers are very easy and comfortable to ride, and can be a solid platform for riders to develop their fundamental big bike riding skills. That being said, let's take a look at the top 5 best beginner-friendly cruisers, arranged from smallest to largest, both in terms of physical size and engine displacement.
Royal Enfield Meteor 350
Starting our list is the smallest, most affordable cruiser currently available in the local market—the Royal Enfield Meteor 350. We recently talked about RE's entry-level cruiser in great detail in our full review of this bike, so be sure to check it out. The Royal Enfield Meteor 350 is a particularly good choice for first-timers looking to go the cruiser route thanks to its docile power output, friendly ergonomics, head-turning styling, and affordable price tag.
At the heart of the Meteor 350 is a 350cc air-cooled, fuel-injected, single-cylinder engine which pumps out a decent 21 hp. While this bike unfortunately doesn't make the expressway-legal cut, it certainly has a few things going for it, especially for use in the urban environment. Its lightweight construction means that this bike is very easy to ride, and is surprisingly compliant when it comes to managing its weight, especially when tackling corners or negotiating heavy traffic situations. The Royal Enfield Meteor 350 starts a P232,000 for the Fireball variant.
Honda Rebel 500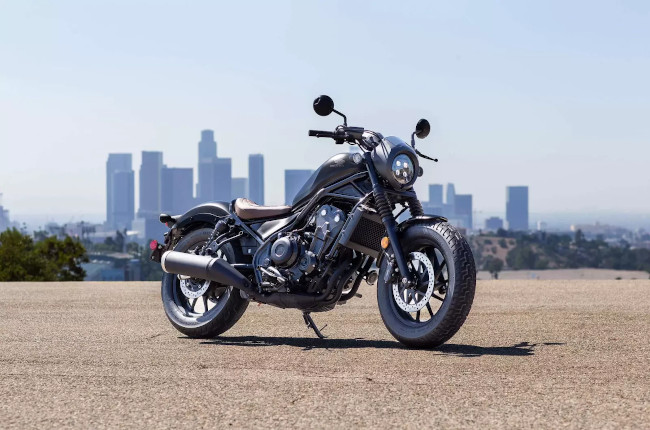 Moving up the list we find Honda's premium beginner-friendly cruiser option in the form of the Rebel 500. Now, the Rebel 500 could very well serve as the natural progression for someone who is seeking to upgrade from a smaller-capacity machine. Just like the Royal Enfield Meteor 350, the Rebel 500 employs stunning, retro-styled aesthetics, albeit with a touch of modern styling. It gets laid back and relaxed ergonomics thanks to a very low seat height and slightly raised bars, making for a comfortable yet confident ride, both on city streets and highways.
It gets Honda's 471cc parallel-twin engine which is rated at 47 horsepower. With more than twice the power of the Royal Enfield on tap, newer riders will be treated to entry-level big bike performance, as well as guaranteed expressway legality. Honda Philippines has priced the Rebel 500 at a rather attractive price P375,000, and of course, boasts impressive build quality, and bulletproof Honda reliability.
Bristol Bobber 650
The next entrant on our list ventures right into big bike territory with a 649cc parallel twin engine. Rated at 68 horsepower, the Bristol Bobber 650 is a rather new entrant into the big bike market, and presents itself with pretty impressive value for money. Boasting classic bobber styling, the Bobber 650 features comfortable, relaxed ergonomics thanks to its low seat height and raised handlebar. It is by far the most powerful and premium option to roll out of Bristol's assembly line, and truly elevates Chinese-made bikes, particularly in the local market, which is currently enjoying a boom in big bike sales.
The Bristol Bobber 650 is priced at P398,000—a slight premium compared to the Honda Rebel 500. It does, however, promise better overall performance, as well as a different flavor of styling thanks to its floating single saddle and muscular fuel tank. The bike features the bare essentials when it comes to safety, with ABS on both front and rear brakes as standard.
Kawasaki Vulcan S
Next up, we have Team Green's interpretation of the ideal muscle cruiser. Featuring thoroughly modern styling, the Kawasaki Vulcan S takes a different approach to the classic cruiser. Instead of a macho, muscular appearance, Kawasaki has opted to go for a sleeker, more streamlined approach, making use of flowing lines and smooth curves. The end result is an athletic-looking cruiser, which is instantly recognizable even from afar.
The Kawasaki Vulcan S boasts rather impressive performance figures, too. Equipped with Kawasaki's tried and tested 649cc parallel-twin engine, this engine pumps out around 68 horsepower, giving it quite a bit of get up and go. This is, in fact, the same engine we find in the rest of Kawasaki's 650 range which consists of the Ninja 650 sportbike, Z650 naked streetfighter, and Versys 650 adventure-tourer. The Kawasaki Vulcan S is priced at P415,000, and comes standard with ABS front and rear.
Harley-Davidson Iron 883
Our last entry to the list of beginner friendly cruisers is indeed the most premium bike among the lot. Packing decades of legacy, the Harley-Davidson Iron 883 is the smallest, most beginner-friendly bike in the Sportster range. While 883cc may seem like a big engine, the Iron 883 delivers power in a very compliant and docile manner. In fact, it only pumps out 49 horsepower, making it comparable to the likes of entry-level 500cc bikes from Benelli or Honda. However, despite this lack of power, the Iron 883 has proven itself as a fan-favorite, thanks to its beautiful, timeless design, which is instantly recognizable as a Harley-Davidson.
Harley-Davidson has equipped the Iron 883 with a rather sporty chassis, with suspension which has been tuned for sporty riding. Its tuck-and-roll style single seat provides quite a lot of bolstering, making for a comfortable ride for both beginners and intermediate riders alike. It gets a rudimentary 5-speed transmission with rather tall gearing, making it perfect for long cruises on the highway. The Harley-Davidson Iron 883 comes with a sticker price of P700,000.
---
Related Articles
Here are a few tips to decide if you should get a big bike or small bike depending on your lifestyle.

Here are five things that make the Harley-Davidson Sportster S a one-of-a-kind power cruiser.

Should you get a tinted visor for your motorbike helmet? If you ride a lot during the day, a tinted visor can protect your eyes from the glare and keep you comfy.

If your motorcycle is out of warranty, it's now your duty to make sure you stay on top of its maintenance no matter what, or run the risk of facing a hefty repair bill.

Here are a few things you should avoid if you plan to ride your motorcycle in rainy weather.
---
Latest Features
Here are a few reasons why you need a dual-sport motorcycle in your garage, and a few reasons why they're the most versatile machines on two wheels.

Is made-in-China really that bad? It turns out not really, as today's Chinese motorcycles are surprisingly well-equipped and capable of competing with mainstream rivals.

Here are a couple of reasons why the Honda CB500F should be your first big bike.