/ Featured Article
Top 5 automatic scooters under P100,000
Twist and go, for only less than a P100,000 – or a little more.
---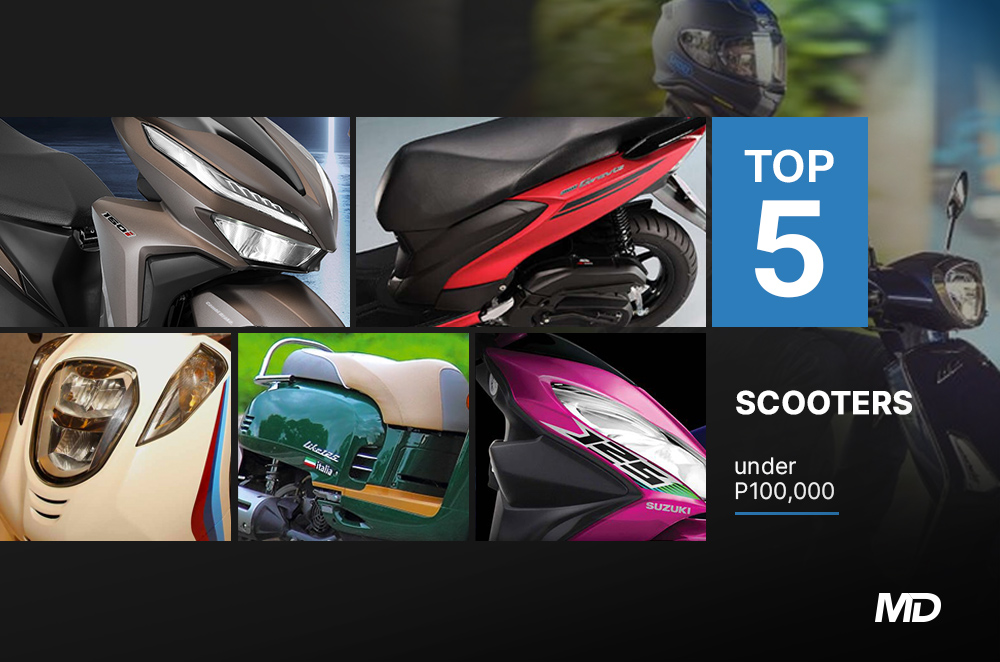 An automatic scooter can be an indispensable tool while getting around the traffic of Metro Manila. With just a twist of the wrist, you will find yourself accelerating, and easily squeezing through tight gaps with ease. Lightweight, and maneuverable, scooters are a staple on Philippine roads. For the budget-conscious, and those who like the convenience of an automatic transmission, here are our top picks for under P100,000 in no particular order.
Honda Genio
The Honda Genio is a scooter that was built to be ridden by absolutely anyone with style. This more hip and stylish scooter of the bunch is powered by a 110cc engine that is capable of 8.89hp and 9.30Nm of torque. Its weight, dimensions, and ergonomics are meant to give you the easiest handling scooter you can ever have ensuring you of stress-free riding experience.it comes with the usual goodies that scooters nowadays usually offer such as a spacious inner rack where you can store your personal belongings, and a USB charger for powering up all your favorite gadgets. The Honda Genio is priced at P72,900, it's enough to get you around without the hassle of being stuck in traffic.
Suzuki Skydrive 125
The Suzuki Skydrive 125 is a bold scooter to ride in the Metro. With its loud colors, it can easily grab your attention. Its headlight takes styling cues from its bigger brother, the GSX-R making it look like it means business when called for. It's powered by a 124cc, air-cooled,4-stroke, fuel-injected engine that can churn out 9 hp and 10 Nm of torque. It's light, easy to reach, with a seat height of only 744 mm, and the cheapest of the bunch with a starting price of only P67,900, it's not a hard target to hit – and don't worry, there are other colors available aside from pink.
Kymco Like 125 Italia E3
Without a keen eye, you would easily mistake the Kymco Like 125 as a Vespa. With vintage styling cues and elegant details, it makes riding around the city on a scooter look good. It's powered by a 125cc single-cylinder, 4-stroke, engine that can also churn up to 9 hp and 10 Nm of torque. It also comes with a glove box and a 12-volt socket to charge your devices. Its classic "Italian-inspired" good looks are combined with modern technology and performance so you wouldn't have to worry about breaking down in the middle of nowhere that old motorcycles bring. The Kymco Like 125 Italia E3 is priced at only P79,900.
Honda Click 150i
The Honda Click 150i is a Sporty looking scooter that is loaded with advanced technology for a fuel-efficient ride capable of taking you even further. Its aggressive styling is meant for people who enjoy feeling a little more wind against their faces as they speed up the open road. After all, it has the most powerful engine among the bunch with a 150 cc engine that's capable of putting up 13 hp and 13 Nm of torque. Its engine comes with an idling-stop system that switches the engine off at traffic stop situations and engages the engine again as you twist the throttle for improved fuel economy. Thus it would be the perfect scooter to zip around the bustling Metro. It also comes with LED headlights for improved visibility and an all-digital instrument cluster to give you all the information you need as you cruise along. The Honda Click 150i is priced at P98,900, which is just a little shy below our P100,000 threshold, still, you couldn't go wrong with a scooter from one of the leading motorcycle brands in the country.
Yamaha Mio Gravis 125
The Yamaha Mio lineup is among the brand's best selling scooters in the country. The Mio Gravis 125 carries modern styling cues coupled with the performance and reliability that Yamaha's are known for. It features a spacious under-seat storage compartment that can easily fit a full-face helmet. It has full LED lighting for both the headlights and taillights as well as a USB charging port to power up your favorite devices just right above the ignition keyhole. It is powered by a 125 cc air-cooled single-cylinder engine capable of putting out 9 hp and 10 Nm of torque. With a price tag of P85,900, you get the reliability of a Yamaha scooter with a more straightforward, mature style and less visual clutter.
Honorable Mention: Yamaha Mio Aerox 155
The Yamaha Mio Aerox 155 is a little bit bigger and version of the Mio Gravis with a beefier engine. It has more angular and aggressive styling cues compared to the Gravis for the more performance-driven rider. It's powered by a 155 cc liquid-cooled 4-stroke engine capable of churning out 18 hp and 14 Nm of torque. It has safety and tech features normally found in bigger bikes including ABS, a pass switch, a full-LED lighting system, and also an idling-stop system just like the Honda Click, for improved fuel economy. Its the fastest among the bunch with a price starting at P102,900 just a little bit above our threshold, but if you're willing to go just a little bit over budget, this is the scooter to go for.
---
Latest Features
Multi-compound tires are pretty much ubiquitous in the world of big bikes. What exactly is a multi-compound tire, and what are the benefits associated with them? Read on to find out

Want a bike that's super fast and looks really dapper doing so? Look no further than the Speed Triple RR from Triumph.

Follow these tips and tricks when getting ready for a long-distance ride on your motorcycle.