/ Featured Article
5 Reasons why traveling's a treat with The Honda BeAT
The Honda BeAT's a bike with style, comfort, and convenience, all rolled into one affordable package.

on Jun 09, 2022
---
The Honda BeAT 110's the Japanese brand's most value-oriented model, providing you efficient transport and reliable performance in a package looks oh so good. The BeAT's one of Honda's quintessential models, being used by delivery riders, commuters, and enthusiasts alike. The model is well-loved for its compact and agile handling, perfect for city streets, and its efficient and robust engine capable of tracking long distances and then some.
So here are five reasons why the BeAT is the scooter to —well, beat.
"Gwapo"
It's easy for a manufacturer to meet a certain price point provided that no real thought was put into the manufacture and design of a motorcycle, but Honda gives the best of both worlds, giving the BeAT an attractive design thanks to a stylish headlight and a sharp taillight design. The new models also come with decals that'll certainly stand out while you're riding on the road or just parked at a stop.
As stated by Honda Philippines' endorser, Bien Garcia, "Gwapo siya. Its overall dimensions are so fit for busy streets. It makes your daily commute a lot easier. It has enough storage to fit all your personal needs for the day ride."
Fuel efficient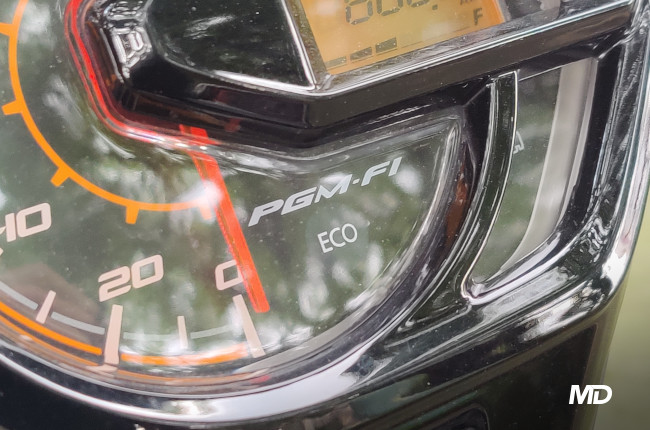 While big bikes and big scooters have fuel tanks that are several liters in capacity, the Honda BeAT 110 makes use of just a 4-liter tank. "That's quite small," you might say, but the Honda BeAT is able to achieve a fuel economy figure of 63.7 km/L according to Honda Philippines. The PGM-Fi, or Programmed Fuel Injection, the system is able to optimize your fuel consumption, giving you the most bang for your buck out of its 110cc single-cylinder engine.
This means that with just four liters of fuel, the BeAT can achieve up to about 250 kilometers worth of range. To top it all off, a full tank of gas will not be so unobtainable so you can always feel good about saying "full tank" at a gas station.
Comfort and safety
At this price point, you'd be forgiven for thinking that a scooter like this would be a bit of a pain to ride. Well, it's not. Even at its affordable price, Honda loaded the BeAT 110 with features like a secured key shutter or magnetic safety ignition system which ensures the security of your motorcycle.
Comfort for your average Filipino rider is also brought bout thanks to a friendly seat height of just 740mm, and you can get over almost any hump or road in the city thanks to its 146mm of ground clearance. On top of that, the ACG starter is silent when you want the engine to come to life and the motor's generator is also housed in the same unit. There is also a side-stand switch that ensures your bike will not start with the kickstand down, which could lead to an accident.
"He proved he is tough. That hot day when we traveled a 500 km back and forth to Bicol, this littel BeAT-beast never overheated. After a long ride with The New BeAT, I always wake up happy and contented, and the most important thing is no shoulder or backaches."
The power to stop and go
Speaking of the engine, the motor in the BeAT 110 is a 110cc single-cylinder engine that is capable of pushing 8.7 hp and 9.21 Nm of torque and is mated to a CVT for that easy twist-and-go. It may only be air-cooled, but the engine's well designed and tuned to keep temperatures manageable even in traffic or even while on a long ride.
Braking power is also easily managed and available thanks to the hydraulic ventilated disc brake in the front and a mechanical leading trail at the back. According to Garcia, the BeAT had "superb braking power," and that "it saved [him] so many countless times." The suspension was also good at smoothing out bumps and potholes on the highway, he adds.
No breaking the bank
We've been going on and on about the BeAT's value for money and affordability, but now it's time to tell you the price. There are three variants on offer from Honda Philippines, and each comes with its own features and styles that are sure to pique your interest.
You can score the Premium variant of the BeAT that comes with Intelligent Start-Stop (ISS) and a Combination Brake System (CBS) for just P71,900. The Fashion Sport (STD) and Street (STD) variants come in at just P68,900, making for a very enticing entry-point for Honda's scooter offerings in the country.
---
---
Related Articles
Here are a couple of reasons why the Honda CB500F should be your first big bike.

Here are a few tips to decide if you should get a big bike or small bike depending on your lifestyle.

Here are a few reasons why you should consider the Peugeot Django 150 as your next retro-style city commuter.

Here are three reasons why the new Honda ADV 160 is one of the best small-displacement scooters in the market today.

Aprilia's SR GT 200 scooter is quite probably one of the best urban scooters in the market. Here are a few reasons why we think this is the case.
---
Latest Features
Here are a few reasons why you need a dual-sport motorcycle in your garage, and a few reasons why they're the most versatile machines on two wheels.

Is made-in-China really that bad? It turns out not really, as today's Chinese motorcycles are surprisingly well-equipped and capable of competing with mainstream rivals.

Here are a couple of reasons why the Honda CB500F should be your first big bike.