Italian helmet brand, Vemar, has been around since the 1970s. If you haven't heard of the name in the Philippines that's understandable because this is the first time that V-helmets – the other name for Vemar – is in the country. It's no AGV in terms of popularity, that much can be said, neither is it a Nolan nor is it a Caberg, but the brand seems to be going places, and quality products are just the starting point.
Its main distributor, MotoStrada, carries four models in the country, and this is the most affordable in the lineup that they have gathered so far, the Vemar Ghibli. It's a touring helmet with good build quality and a sleek side profile. Let's strap this baby on and see how well it does on two wheels.
Design and Build
The Ghibli is a full face single visor helmet. It's sleek with a very sharp look, especially on the chin. You get two vents there to defog the visor, two brow vents, and two exhaust vents with an integrated spoiler. However, I found that the front chin vent switch is awkwardly placed behind the chin guard. It makes sure the chin is free from clutter, however, it's close to impossible to close it on the fly especially with gloves on.
Vemar used R-3P reinforced terpolymers for the shell. The brand makes a pretty big deal out of it but a single shell is shared between all sizes. The helmet is not as heavy as those polycarbonate lids for about the same price point, coming in at just about 1.5 kilograms in a medium. Prior to this, my daily rider was an HJC i10 which is just about 1.6 kilograms. the Vemar Ghibli does not have a carbon or fiberglass shell, but it's still quite impressive given its price point, and it's quite a few grams lighter than most other polycarbonate shell full-face helmets. You also get a polycarbonate visor that I'd personally swap out for a smoked or iridium unit especially in the matte black colorway that I got it in. The matte finish feels good and is of quality with a very even texture all around. Other details include the low profile Vemar logos, though we wish that Vemar went with the "V" logo in white instead of the full text for a much cleaner look. Otherwise, it's still a good looking lid even when it's not on your head.
Honestly, is reminiscent of an AGV from the front and a bit towards the rear, but it has a pretty unique side profile with the cuts down the chin guard. The visor can be lifted via a centrally-located tab with a notch for locking it and feels very smooth on the way up or down. It also features 4 detents and a tool-less removal system, which is a bit cumbersome to use if you're not too familiar with how it works.
Interior and fit
The pads and the lining feel very premium with a very light and airy feel. The pads are also detachable and snap into place well. You also get a chin curtain to help minimize wind noise at high speed. The quick-release ratcheting strap is easy to operate with gloves, and you even get some rubber finishing on the edges of the helmet which is a nice touch and adds to the premium factor.
Uninstalling the pads is simple enough, plus you do get a few bits of velcro on top of the snaps to secure the foam in place. The EPS foam inside the helmet is rather thick and features a black finish which wasn't necessary, but it's a nice added detail. You also get provisions for comms devices though we wish that there were cutouts to route your wires through. During my review period, I was able to install my Parani M10 with no problems, with enough crevices for the wires to route through cleanly.
The helmet fits intermediate oval heads well, and in a size medium, it fits rather loose on my slender face. With fatter cheeks expect a good fit. It fits a bit larger than most mediums but that's good if you're closer to the 58 mm head size. Otherwise, there were no hot spots throughout my time with the helmet. The relaxed fit also helped with getting the helmet on and off while the ratcheting strap enclosure ensured that securing and taking it off as a cinch.
Performance and safety
In the city, the Ghibli performed pretty well. If humidity levels aren't too bad, the visor does remain fog-free while cruising at about 30-40 kilometers per hour thanks to the vents, however, the airflow is not that noticeable given that there are only 4 intake and 2 exhaust vents, but the helmet does stay relatively fresh throughout your journey. Through the rain, however, ride with your visor up especially in traffic. The lens fogs up easier than most but it is Pinlock ready, though Vemar doesn't bundle an insert in the box.
On the highway, the aerodynamic profile is good even when doing head checks. Going at higher speeds, however, you will notice quite a bit of wind noise creeping in through the shell even without the chin mount or the comms system. Even so, the overall experience was good enough even while taking a call, and the caller was able to hear my voice well enough in the city, with a bit more loudness required for the highway. I will say that it could have used one more vent on the chin or on the forehead just for good measure for a stronger defogging effect.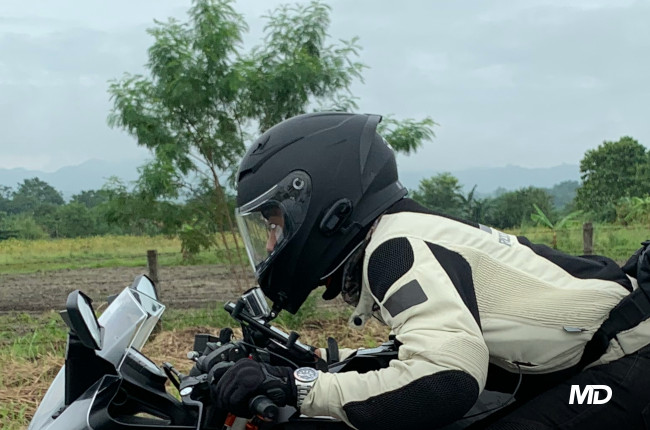 The visor itself offers a wide field of view while retaining good levels of clarity and providing a good seal around its gaskets. You also get a nice angle for a tucked riding position, which is perfect for naked bikes like the KTM 390 Duke and its aggressive yet upright position, but you might find the vertical field of view to be a bit lacking like if you were on an RC 390.
According to the V-Helmets site, the Ghibli features ECE 22.05 certification, as well as a Sharp 3-star rating. You also get our beloved ICC sticker as a form of certification, if anything. Overall, we'll say that the certifications are pretty standard for the pricepoint and the class of helmet that you get. Of course, the safer the better, however, it's definitely not sub-standard.
Verdict and price
The Ghibli retails for P6,300, and all colorways will have the same price tag across the board. Now, considering the build quality, finishing, and style of the lid it's a pretty good deal as a street helmet that can do some highway duty. Though, we don't recommend this for the track or for a full-on touring ride. Long rides aren't a problem, but if you'll go on a much longer ride, the Zephir from the Vemar product line is a more optimal choice and it features a drop-down visor and better soundproofing. You only need to pay a bit more.
All things considered, the Ghibli is still a good buy if you're looking for a nice all-rounder with a more relaxed fit and a very streamlined look. It feels very premium and lightweight, however, it's not without its flaws. Again, the venting could be better and it fogs up pretty easily, but we cannot deny that having the Tricolore on your forehead is a bit of a statement, even if the brand is quite new to the market.
---
Related Articles
Looking for gear? Looking for a shop? Check out this list.

A lot of people scrimp on riding gear due to the fact that it's really expensive. That said, is expensive riding gear really worth its weight in gold?

Should you get a tinted visor for your motorbike helmet? If you ride a lot during the day, a tinted visor can protect your eyes from the glare and keep you comfy.

Here are 3 simple reasons why you should get a motorcycle intercom system.

Is it safe to ride your motorcycle with a normal jacket? Of course not. Read on to learn why you should always wear a motorcycle-specific jacket.
---
Latest Features
KTM has teamed up with RIDE ACADEMi to offer advanced street-riding skills to everyday riders.

Want to ride a big bike but don't want to break the bank? These 5 affordable models may be worth considering.

Floating discs or solid discs—which one is better and is it worth upgrading to aftermarket rotors?