These days, in the big bike world, bigger doesn't always mean better. In recent years, manufacturers have released middleweight naked bikes, sportbikes, and adventure bikes that have proven that displacements of 1,000cc and above aren't required to have a good time. However, high-capacity machines undoubtedly have their benefits, especially when it comes to providing a confidence-inspiring ride on long journeys across arduous terrain.
Having said that, it isn't really all too surprising that liter-class adventure bikes continue to be popular all over the world. These bikes present themselves with the capability to traverse all sorts of terrain thanks to their long-travel suspension and dual-purpose tires, yet also have the ability to cover extremely long distances at constantly high speeds, and in relative comfort thanks to their powerful engines. Today, let's take a look at what we think are the top 5 best high-capacity adventure bikes currently available in the market.
Suzuki V-Strom 1050 XT
The first bike on our list is Suzuki's entry into the premium ADV segment, the V-Strom 1050 XT. Arguably the most basic bike in terms of outright performance and features, what the V-Strom 1050 XT lacks in farkles, it makes up for in sheer dependability. Equipped with a 1,037cc V-Twin complete with liquid-cooling and electronic fuel-injection, the 'Strom pumps out a healthy 99 horsepower at 8,000 RPM. This gives it a very linear and tractable power delivery, making it an agreeable companion be it on the highway, twisty roads, or off-road. It gets respectable underpinnings, too, with long-travel suspension front and back, as well as ABS-equipped twin disc brakes up front, and a single disc at the rear. The V-Strom 1050XT is the most affordable bike on the list, too, at just P859,000.
Honda Africa Twin Adventure Sports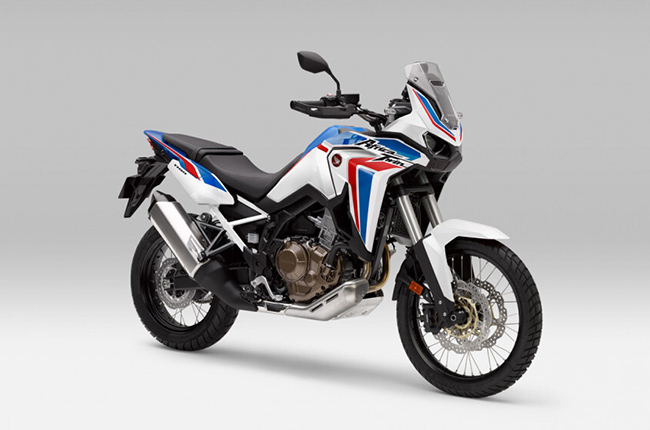 Moving up the list we have Honda's overgrown enduro bike that's cosplaying as an ADV; the Africa Twin Adventure Sports. Out of all the bikes on this list, the Africa Twin has the deepest off-road roots, and in fact shares the same designation as Honda's CRF dirt bikes, going by the CRF1100L nomenclature. Beneath the bike's tall and slender build lies a confidence-inspiring 1,084cc parallel-twin engine pumping out 100.5 horsepower and 105 Nm of torque. Its lightweight chassis makes this bike capable of doing some gnarly things off-road. From rock gardens, river crossings, and blasting up and down fire roads and taking jumps, the Africa Twin Adventure Sports has you covered. What's even better is that this bike can be purchased with either a conventional manual transmission, or a DCT, for those of you looking to use this bike predominantly for touring purposes. Prices for the Africa Twin Adventure Sports in the local market start at P1,160,000.
BMW R 1250 GS
Today, the BMW R 1250 GS is the de facto king of adventure bikes, not just in the local market, but across the globe, too. BMW seemed to hit the bullseye with this platform, providing what many people consider to be unrivaled capability both on and off-road. This is largely thanks to the bike's boxer-engine which gives it an incredibly low center of gravity, making it feel lighter and more nimble than its 550-lb weight would suggest. Powering this heavyweight is BMW's iconic 1,254cc, horizontally opposed twin, colloquially referred to as the boxer engine. With 134 horsepower on tap, this bike is capable of covering long distances in comfort and ease. A sophisticated suite of electronic rider aids keeps tabs on the power, making this bike surprisingly easy to ride.
Ducati Multistrada V4
The Ducati Multistrada V4 is the Italian icon's newest, greatest adventure bike that just so happens to be a technological marvel at the same time. For the 2021 model-year, Ducati has made some bold new changes to the bike. For starters, its 1,158cc V4 engine no longer makes use of Desmodromic valve timing. In its stead, standard valve-spring actuation has been used in order to extend maintenance intervals. Other nifty features include a high-tech range of electronic assist governed by Ducati's Inertial Measurement Unit (IMU), similar to what we find in the Panigale V4 superbike. Pricing for the new Multistrada V4 is pegged at a rather steep P1,490,000 all the way to P2,180,000.
KTM 1290 Super Adventure
The last bike on our list comes to us from a company which has built its reputation off-road. KTM, known the world over for its race-winning motocross and enduro machines, has been making the Adventure range of bikes for nearly two decades now. The latest of which, the 1290 Super Adventure S, is one of the most powerful ADVs currently available in the market. Just like its sporty sibling, the 1290 Super Duke R, the 1290 Super Adventure S boasts a 1,301cc V-twin motor punching out 160 horsepower and 140 Nm of wheelie-popping torque. It comes equipped with programmable ABS for use both on and off-road, as well as built in stability control, traction control, and adjustable suspension. This top-shelf adventure bike fetches a reasonable price tag of P1,390,000. However, KTM recently announced an updated version in the form of the 1290 Super Adventure R. This bike has yet to make its way to the local market, however, when it does, it'll certainly be a gamechanger in the high-capacity ADV game.
---
Related Articles
Is made-in-China really that bad? It turns out not really, as today's Chinese motorcycles are surprisingly well-equipped and capable of competing with mainstream rivals.

Here are a couple of reasons why the Honda CB500F should be your first big bike.

Here are a few tips to decide if you should get a big bike or small bike depending on your lifestyle.

Here are a few reasons why the CFMOTO 400 GT is hard to beat when it comes to the entry-level sport-tourer segment.

Here are a few things that make the Kawasaki Versys 650 a bulletproof choice when it comes to those looking for practicality, dependability, and value for money.
---
Latest Features
Here are a few reasons why you need a dual-sport motorcycle in your garage, and a few reasons why they're the most versatile machines on two wheels.

Is made-in-China really that bad? It turns out not really, as today's Chinese motorcycles are surprisingly well-equipped and capable of competing with mainstream rivals.

Here are a couple of reasons why the Honda CB500F should be your first big bike.