/ Featured Article
Here's why the Harley-Davidson Sportster 883 makes for the perfect first big bike
A solid option for those looking to go down the cruiser route.

on Aug 12, 2021
---
When it comes to brand recognition, particularly in the big bike world, few motorcycle manufacturers are as instantly recognizable as Harley-Davidson. For many, H-D represents the very embodiment of the motorcycle lifestyle—the freedom which accompanies hitting the open road on two wheels. As such, it isn't really surprising that a lot of motorcycle enthusiasts who have chosen the cruiser route look to Harley-Davidson as their ultimate dream machine.
Indeed, the MoCo has quite the extensive array of models which cover all the bases when it comes to laid-back, rugged-style riding. What better Harley-Davidson to start your cruiser journey on than the Sportster Iron 883? Yes, you may be thinking that starting out on an 883cc cruiser is rather overbearing. However, you'll be pleased to know that the Sportster 883 is quite the approachable machine. Here are a few more things you ought to know.
All-American icon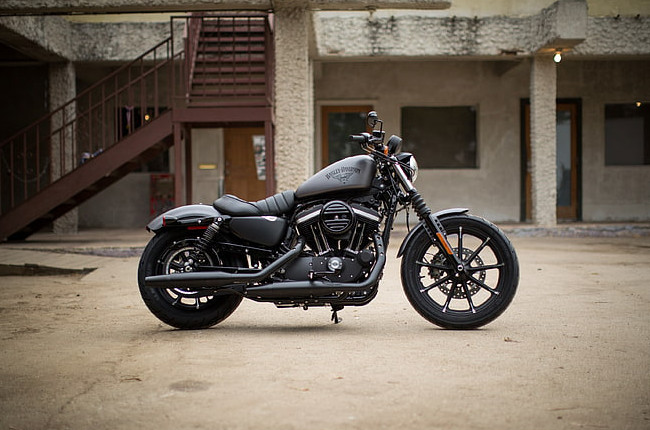 You can't talk about Harley-Davidson without also talking about its country of origin. Hailing from none other than the Land of The Free and the Home of The Brave, Harley-Davidson has long since cemented its name in the motorcycling hall of fame. As such, the Sportster 883 is a deserving carrier of this rich heritage.
To make things even better, the Sportster name is one of the most iconic models to ever roll out of the H-D factory, being in production since 1957. The Sportster has long been the most versatile model in Harley's lineup, as it can be configured to fulfill a myriad of riding duties. It can handle relatively sporty riding, long-distance touring, and of course, chill rides on the highway.
Approachable performance
As far as performance is concerned, don't let the Sportster 883's big engine deceive you into thinking that it's a fire-breathing beast. Although displacing 883 cubes, it only churns out 49 horsepower and 54 ft-lbs of torque. That's nearly just as much as some 400cc to 500cc motorcycles currently available in the market.
As such, the Sportster 883 is rather friendly to beginner riders who aren't exactly well versed in smooth and sublime throttle management. To make things even better, the 883 boasts a rather low seat height and a comfortable, upright riding position with confidence-inspiring ergonomics making it an enticing option for ladies and height-challenged gentlemen.
Drop-dead-gorgeous looks
The Harley-Davidson Sportster 883 features classic H-D styling which is a result of years of making some of the world's most famous bikes. The Sportster name, in and of itself, carries a truckload of heritage. In fact, it continues to be Harley-Davidson's most popular motorcycle platform in its extensive model range.
As such, the Sportster 883 carries with it unmistakable Harley-Davidson aesthetics with its muscular appearance, sleek and streamlined bodywork, and instantly recognizable V-twin exhaust note—brutish characteristics which are underlied by approachable ergonomics and performance.
It's a keeper
Apart from this Sportster's rich history and heritage, this bike also makes for an excellent blank canvas for custom enthusiasts to unleash their creativity on. With more and more custom bike enthusiasts emerging, especially in the local scene, it isn't uncommon to see Harley-Davidson motorcycles donning various bespoke and custom bits and pieces.
Having said all that, the Sportster 883 is very well a motorcycle you could keep for a long time, even as your big bike collection continues to expand. Simply put, it's a practical, easy to ride machine which is full of character. The Harley-Davidson Sportster 883 is available in the local market at a price starting at P700,000.
---
---
Related Articles
Here are some of our experiences with Japanese and European motorcycle ownership that are worth sharing.

Want to ride a big bike but don't want to break the bank? These 5 affordable models may be worth considering.

Floating discs or solid discs—which one is better and is it worth upgrading to aftermarket rotors?

Here are 5 Chinese-made motorcycles we're looking forward to seeing in the local market in 2023.

Here's our list of the top 10 lightweight big bikes worth considering in 2023.
---
Latest Features
Let's take a moment to discuss the dangers of overloading your motorcycle, and the safety and mechanical issues that may arise due to this.

Here are some of our experiences with Japanese and European motorcycle ownership that are worth sharing.

KTM has teamed up with RIDE ACADEMi to offer advanced street-riding skills to everyday riders.